Industry News

BREEZING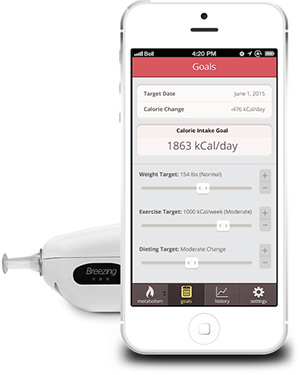 To measure one's metabolism, it's as simple as breathing. Created by a team of researchers and engineers, Breezing is the world's first mobile metabolism tracker. The Breezing mobile app syncs to a smartphone or tablet wirelessly through Bluetooth to take metabolic measurements. Breezing also tracks metabolism over time, to help users follow their diet and exercise goals.
Breezing provides an accurate snapshot of an individual's caloric burn rate, which is a powerful tool for practitioners wanting to better manage their client's weight, for athletes to optimize their performance, or for expecting mothers to more closely monitor their diet during and after pregnancy.
At the core of Breezing's technology is the ability to accurately measure Resting Energy Expenditure, or REE. The key is that REE is 100 percent unique to an individual, and typically accounts for the majority of calories burned (up to 85 percent). Knowing one's precise metabolic rate can empower users to fully customize their weight and fitness goals.
Breezing measures both oxygen consumed and carbon dioxide produced in the breath. In fact, Breezing uses indirect calorimetry, which is the most accurate method of metabolic measurement available, and considered the Gold Standard preferred by the American College of Sports Medicine, Academy of Nutrition and Dietetics, World Health Organization, and other institutions.
While traditional indirect calorimeters are bulky, difficult-to-use, and often only found in the doctor's office, Breezing is different. Through sensor technology and creative engineering, Breezing streamlines indirect calorimetry—so it's simple, mobile, and effective.
Those wanting more information about the Breezing Metabolism Tracker can visit www.breezing.com. Breezing is only available online at this time.
About Breezing
Breezing Co. creates game-changing solutions for personal health. As passionate scientists, researchers, and innovators, the company combines proven science with intuitive technology to enable better biometrics tracking.