Current Issue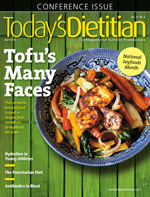 April 2015 Issue
features
Tofu's Many Faces
This versatile, ancient food comes in a variety of tastes and textures and is used in recipes ranging from smoothies to vegetable stir-fries.
Hydration in Young Athletes
Knowing the guidelines can help RDs educate coaches, youth sports organizations, and parents.
The Pescetarian Diet
Adding fish and seafood to a vegetarian eating plan can create the healthful diet clients crave.
Antibiotics in Meat
Dietitians and meat industry professionals discuss this controversial practice and what could be done to possibly curtail it.
TD Q&A: Organic vs Conventional — Which Is Better?
Today's Dietitian speaks with agricultural, nutrition, and toxicology experts about organically grown and conventionally grown foods and their impact on human health and the environment.
CPE Monthly: Can Lifestyle Changes Improve Erectile Dysfunction?
This continuing education course explores specific lifestyle risk factors associated with erectile dysfunction and whether the condition can be improved by modifying them.
departments
Reader Feedback
Ask the Expert
Nutrition Software
Dynamics of Diabetes
Bookshelf
Focus on Fitness
Personal Computing
News Bite
Get to Know…
Datebook