Current Issue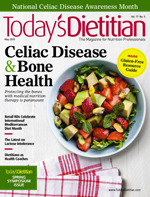 May 2015 Issue
Features
Today's Dietitian Share Your Story Essay Contest Winners
Today's Dietitian congratulates the three winners of our 2015 Share Your Story Essay Contest. Read their engaging stories about why they became dietitians and the journeys they took along the way.
Celiac Disease and Bone Health
Learn how celiac disease impacts bone density and how administering MNT can help reduce fracture risk in patients.
Celebrating Mediterranean Food Traditions
Join in the fun as supermarket RDs from across the country offer food samples, stage cooking demos, and educate shoppers to kick off Oldways' International Mediterranean Diet Month.
Dietitians as Health Coaches
Becoming a certified health coach can enhance your RD credential and boost your effectiveness with clients.
The Latest on Lactose Intolerance
What it is, how it's diagnosed, and tips for counseling clients and patients.
CPE Monthly: MNT For Endometrial Cancer Survivors
This continuing education course reviews the epidemiology of endometrial cancer, the increasing incidence of diagnosis, and how nutrition professionals can help reduce survivors' risk of death from comorbid conditions and improve their quality of life.
Departments
Reader Feedback
Ask the Expert
Sports Nutrition
Focus on Fitness
Culinary Corner
Datebook