E-Newsletter

•

November 2022
Editor's E-Note



Evolution of Diabetes Management

The introduction of more advanced technologies and the use of different metrics to help manage diabetes has eased the burdens of daily self-care for many people.

In this month's E-News Exclusive, Today's Dietitian (TD) looks at the historical use of A1c and its limitations in glycemic management, the advent of self-blood glucose monitoring and continuous glucose monitoring technology, and the introduction of time in range, a new metric that looks at the percentage over time that a person's glucose levels are within a defined range.

After reading the article, visit TD's website at www.TodaysDietitian.com to read the digital edition of our November/December issue, which includes articles on advanced insulin delivery technology, hemp-fortified foods and beverages, raising kids on plant-based diets, and RDs' favorite healthful holiday desserts.

Please enjoy the E-Newsletter and give us your feedback at TDeditor@gvpub.com, and don't forget to like us on Facebook and follow us on Twitter.

— Judith Riddle, editor

In This E-Newsletter

▼

ADVERTISEMENT





From A1c to Time in Range — New Glycemic Management Metrics



By Hope Warshaw, MMSc, RD, CDCES, BC-ADM, FADCES

The popular saying "perspective is everything" may hold true for diabetes management. Let's glimpse back in time to understand where we are today when it comes to glycemic management metrics.

A1c, or more formally, hemoglobin A1c, was isolated in 1958 and characterized as a glycoprotein a decade later.1 Around 1969, research showed that people with diabetes tend to have elevated A1c levels. By 1976, A1c was proposed as a biomarker of glycemic management and slowly integrated into diabetes care. Interestingly, A1c wasn't added as a diagnostic indicator of diabetes until 2010.2

The 1980s ushered in the era of self-blood glucose monitoring (BGM), still used today by millions to manage their glucose levels—though today, the meters are smaller and faster, require less blood for a check, and often integrate with an app that offers insights and trends.3

Fast forward to the mid-2010s, research began to poke holes in the accuracy of the A1c test for all people with diabetes.4 Around this time, there was a call for glucose management metrics that went beyond A1c, and the Beyond A1c Movement was born.5 Concomitantly, continuous glucose monitors (CGMs) were becoming available to provide near constant data on glucose levels and associated details throughout the day.6 CGMs measure interstitial glucose found in the fluid between the cells, not blood glucose.

During the last decade, CGM technology has become more available, accurate, useable, and reimbursable.6 Thus, increasing numbers of people with diabetes, especially those who require insulin, have adopted its use. People who use a CGM to monitor and manage glucose levels produce voluminous data. They and their clinicians needed a logical way to access, analyze, and act on the data to make data-driven care decisions. Enter time in range (TIR) and its related metrics.



New Survey: 91% of Parents Say Their Family Is Less Stressed When They Eat Together



Chronic, constant stress can increase lifetime risk of heart disease and stroke, but a new survey from the American Heart Association (AHA) reveals regular mealtime with others could be a simple solution to help manage stress.

Of the 1,000 US adults nationwide surveyed in September 2022 for the AHA's Healthy for Good™ movement by Wakefield Research, the vast majority (84%) say they wish they could share a meal more often with loved ones, and nearly all parents report lower levels of stress among their family when they regularly connect over a meal.

"Sharing meals with others is a great way to reduce stress, boost self-esteem, and improve social connection, particularly for kids," says Erin Michos, MD, MHS, an AHA volunteer, associate director of preventive cardiology at Johns Hopkins School of Medicine, and a coauthor of the AHA's statement on Psychological Health, Well-Being, and the Mind-Heart-Body Connection. "Chronic, constant stress also can increase your lifetime risk of heart disease and stroke, so it's important for people to find ways to reduce and manage stress as much as possible, as soon as possible."



The Link Between Artificial Sweeteners and Stroke


Artificial sweeteners are popular among individuals who are watching their weight. According to US News & World Report, French research has linked such sweeteners to increased risk of heart attack and stroke.



A Look at Ulcerative Colitis


Ulcerative colitis is known to cause discomfort to those suffering from it, but the condition can be managed through diet. Medical News Today explores what people with ulcerative colitis should and shouldn't eat.


CPE Monthly



In this month's issue of Today's Dietitian, learn about health inequities and disparities in food and nutrition. Read the CPE Monthly article, take the 10-question online test at CE.TodaysDietitian.com, and earn two CPEUs!

Now you can save on CPE Monthly articles! Access 12 courses and their corresponding quizzes for about $8/credit when you sign up for our NEW CPE Monthly Pass!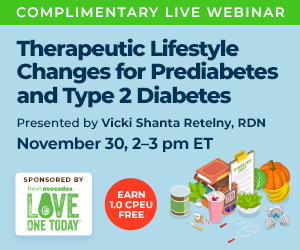 Upcoming Live Webinars



Therapeutic Lifestyle Changes for Prediabetes and Type 2 Diabetes
Wednesday, November 30, 2022, 2–3 pm ET
Presented by Vicki Shanta Retelny, RDN
1.0 CEU FREE | Sponsored by Love One Today®. Register Now »

The Farm Bill: Implications for the Food System and Dietetic Practice
Wednesday, December 7, 2022, 2–3 pm ET
Presented by Christina Badaracco, MPH, RDN, LDN
1.0 CEU | Register Now »

The Health Care Staffing Crisis: Creative Solutions for Today's Challenges
Thursday, December 8, 2022, 2–3 pm ET
Presented by Elaine Farley-Zoucha, RD, LMNT, and Lyndel Schuster, MS, RD
1.0 CEU | Becky Dorner & Associates is approved by the CDR to offer 1.0 CEU for this webinar. Register on the Becky Dorner & Associates website »

Menopause Misinformation: Separating Health From Hype in the New Year
Wednesday, January 11, 2023, 2–3 pm ET
Presented by Val Schonberg, MS, RDN, CSSD, LD, NCMP, FAND
1.0 CEU | Register Now »



Recorded Webinars



Insulin Delivery Devices Today, Tomorrow, and Beyond: What RDs Need to Know Now
Presented by Hope Warshaw, MMSc, RD, CDCES, BC-ADM, FADCES
1.0 CEU | Access the Recording »

Teaching Clients the How & Why of a Flexitarian Eating Style
Presented by Dawn Jackson Blatner, RDN
1.0 CEU FREE | Sponsored by Danone North America. Tango Communications was approved by the CDR to offer 1.0 CEU for this webinar.
Access the Recording »

A Novel Approach for Helping Kids Develop Healthy Eating Skills
Presented by Stephanie Meyers, MS, RD, LDN
1.0 CEU | Access the Recording »

Yoga Therapy for Nutrition-Related Conditions: Mechanisms, Evidence, Practical Applications, and Credentialing
Presented by Annie Kay, MS, RDN, RYT500, C-IAYT
1.5 CEUs | Access the Recording »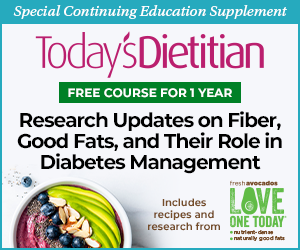 Recently Added Self-Study Courses

2023 Spring Symposium



Make plans to join us next May 14–17 in Savannah, Georgia, and experience first-hand what we have in store for our 10th Anniversary event. Earn CEUs with interactive educational sessions, workshops, and presentations led by some of the foremost experts in dietetics and nutrition. Take a look at highlights of our 2022 event.




2022 Spring Symposium Recorded Sessions



Weren't able to attend the Today's Dietitian Spring Symposium? Good News! The recorded sessions are now available for purchase.

The 2022 Today's Dietitian Spring Symposium Recorded Session Package features 19.5 credit hours of high-quality continuing education content in a variety of topics in nutrition and dietetics. Get the 2022 Spring Symposium Recorded Sessions »
Rise Up + Recover


Available for iPhone is Rise Up + Recover, an eating disorder app for individuals with anorexia, bulimia, binge eating, and eating disorders not otherwise specified. Allowing users to track emotions and behaviors, share progress, and find local support, it includes the type of self-monitoring homework that's key to cognitive behavioral therapy.



Connect by Culture


Culturd has launched an app that connects dietitians with clients based on culture to co-create a customized nutrition plan. Users can sign up and start searching for free. When a user includes relevant factors in their profile, such as cultural cuisine, language, and religion, they're matched with a dietitian who will provide targeted nutrition care. One account works on all devices.
In the January Issue



• Body Positivity
• Culinary Medicine
• Mindful Snacking
• Sustainability
• Nutrition and NAFLD
COVER STORY
Healthful Holiday Desserts
Today's Dietitian speaks with eight notable RDs who share their favorite recipes that are nutritious and delicious, and will satisfy that sweet tooth.

FEATURE
Insulin Delivery Device Technology
Be in the know about newer and more advanced insulin delivery devices and how they can optimize outcomes and ease self-care challenges.


Advertising Opportunities
Have a product or service you want to market to nutrition professionals? Utilize the reach of Today's Dietitian Magazine to accomplish your marketing goals. Email our experienced account executives today at sales@gvpub.com or call 800-278-4400 for more information.


© 2022 Today's Dietitian Magazine