Buying CBD Products



When counseling clients and patients about products containing cannabidiol (CBD), it's important to know what they should look for on the labels and on company websites before they spend their money. The CBD retail market is growing exponentially with promises to seemingly treat almost every ailment in the form of tinctures, oils, food, beverages, supplements, and more. And while many CBD-containing products have been legitimately tested for efficacy and safety regarding their claims, some have not and don't contain the amount of CBD stated on their labels.

In this month's E-news Exclusive, Today's Dietitian (TD) provides RDs with important information their clients should consider before buying CBD products.

After reading the article, visit TD's website at www.TodaysDietitian.com to read the digital edition of the March issue, which includes articles on plant protein powders, CBD beverages, writing for retail customers, exercise and eating disorders, and our 11th annual TD10 feature that showcases profiles of the top 10 RDs you helped nominate for the incredible work they do in dietetics.

Don't forget to check out RDLounge.com where you can read and comment on blogs written by RDs for RDs. We're welcoming new guest bloggers, so if you're interested in writing, please contact me at the e-mail listed below.

Please enjoy the E-Newsletter and give us your feedback at TDeditor@gvpub.com, and don't forget to like us on Facebook and follow us on Twitter.

— Judith Riddle, editor


Top Tips for Purchasing CBD Products


By Pat Baird, MA, RDN, FAND

Cannabidiol (CBD) products continue to enjoy ever-increasing popularity. In fact, the US CBD market is projected to grow to $24.4 billion in 2020, according to the Brightfield Group, a leading consumer insights firm for the CBD and cannabis industries. Furthermore, according to The Motley Fool, a financial investment company in Alexandria, Virginia, the retail market will make up more than 60% of the CBD sales in the United States by 2024.

CBD is one of the more than 400 active ingredients in the cannabis plant and is a proven anti-inflammatory. It has been shown to treat anxiety, depression, seizures, and more. THC, or delta-9-tetrahydrocannabinol, is another well-known compound that has psychotropic effects. Hemp is the strain of cannabis that contains less than 0.3% THC and is used in most CBD products on the market.

Full story »





New Self-Study Courses Available!




Upcoming Live Webinars



Helping Clients Make Lifestyle Changes That Get and Keep Pounds Off — What Works?
In part two of this two-part complimentary webinar series, on Wednesday, April 1, 2020, from 2–3 PM EDT, Hope Warshaw, MMSc, RD, CDE, BC-ADM, will review evidence from recent and long-term studies that demonstrates the value of weight loss and long-term maintenance. Hope will share the cadre of successful strategies for weight maintenance accumulated from research studies and other expertise. She will also share insights gleaned from a panel discussion at the Today's Dietitian 2019 Spring Symposium with several health care providers and their clients who have successfully kept lost pounds off. Sponsored by Love One Today®. Register Now »

Alphabet Soup: The ABCs of Omega-3s
Join Elana Natker, MS, RD, for a complimentary webinar on Wednesday, April 15, 2020, from 2–3 PM EDT, as she presents the latest research on omega-3s; a review of the science of omega-3s, including which are considered essential and why; and learn why it's important to stress sources of EPA and DHA omega-3s to your clients. Elana will also discuss how vegetarians and vegans can still get EPA and DHA omega-3s without relying on ALA-based sources. Sponsored by AlwaysOmega3s.com. Register Now »

The French Paradox: New Research on Wine, Alcohol, and Heart Health
Join Ginger Hultin, MS, RDN, CSO, for an engaging webinar presentation on Thursday, April 30, 2020, from 2–3 PM EDT, as she helps fellow dietitians wade through the oceans of research since this discovery. This webinar is about more than just alcohol. Ginger will help RDs better understand the relationship between wine and health; she will review current guidelines and research on saturated fat consumption; and she'll dive into recent research on cardiovascular disease around the world. This is a complex topic delivered in an entertaining way so participants walk away with concrete advice on the subject and are prepared to discuss it with their clients, patients, the media, and peers in the industry. Register Now »

CBD and Cannabis Use at the End of Life: Evolution and Evidence
Join Janice Newell Bissex, MS, RD, FAND, on Wednesday, June 3, 2020, from 2–3:30 PM EDT, for a webinar that will provide a historical perspective on cannabis use and an overview of the endocannabinoid system. She will discuss the conditions cannabis/CBD may be helpful for, as well as proper administration methods and dosing. Janice will dive into the evidence-based research, pros and cons of cannabis/CBD, and its appropriate medical use, with particular focus on the use of cannabis/CBD in end-of-life situations. Register Now »

Dietary Supplement Use in Older Adults: Help, Hype, or Hope?
On Wednesday, June 10, 2020, from 2–3 PM EDT, Christine Rosenbloom, PhD, RDN, LD, FAND, will deliver a webinar focusing on dietary supplement use in older adults. Rosenbloom will discuss research that supports (or refutes) supplements' claims and the potential interactions with prescription and over-the-counter medicines taken concurrently with supplements. She will also cover supplement forms, dosage, and deliver a risk/benefit evaluation that will arm dietetics professionals with pertinent information on the most popular supplements, including multivitamins, vitamin D, magnesium, fish oil, turmeric, CoQ10, and probiotics. Register Now »

Food and Fitness After Cancer
Join Shayna Komar, RD, LD, and Joel Hardwick, ACSM/EP-CET, EIM2, on Thursday, June 25, 2020, from 2–3 PM EDT, for a webinar that will address how food and fitness impact the cancer survivor. Shayna and Joel will discuss how to create a healthy plan post treatment and educate dietitians on how to team up with their local exercise experts to help patients manage post treatment side effects. Register Now »



Complimentary Recorded Webinars

News in Nutrition Therapy for Prediabetes and Type 2 Diabetes: Getting From Didactic to Pragmatic

In part one of this two-part webinar series, join

Hope Warshaw, MMSc, RD, CDE, BC-ADM,

 to examine how much and what types of carbohydrates, proteins, and fats to recommend, and optimal eating patterns. The webinar delineates the common denominators of the American Diabetes Association's nutrition guidance, and reviews case studies that highlight common clinical challenges and client scenarios to offer clinical considerations and counseling tips.

Sponsored by Love One Today®. Register Now

»

Critical Thinking About Gene Editing and Human Nutrition Jason Riis, PhD,

and

Brandon McFadden, PhD,

lead an interactive webinar that builds on a 2019 survey of the

Today's Dietitian

readership pertaining to critical thinking. Riis and McFadden discuss the results of that survey, as well as describe discussion patterns and reference specific examples from current commentators. They also address specific concepts and communication tactics to help RDs identify and engage in various types of consumer discussion.

Sponsored by Bayer. Register Now

»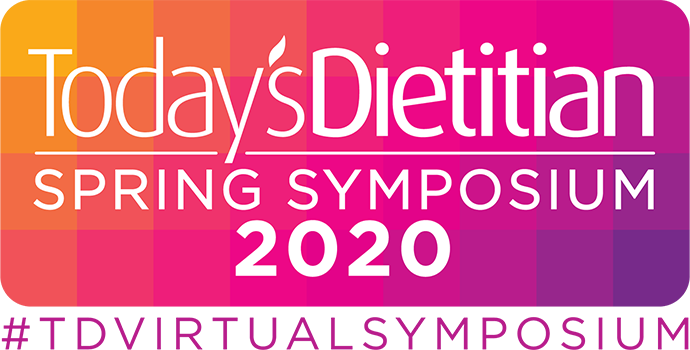 Today's Dietitian Spring Symposium is Going Virtual — May 17–20, 2020

In view of the current state of the COVID-19 pandemic, Today's Dietitian is not able to host the Spring Symposium live in Savannah, GA, this year. However, the symposium is still on — virtually! This format offers a new spin on the same first-rate continuing education sessions, sponsor information and sampling, and unique and engaging activities. The live and on-demand schedules are being finalized, and will be published soon. Please check our website (TodaysDietitian.com/SS20) for more information and to register.




Meal Kit Software for Retail


DailyKit is a new software suite that enables restaurants and other foodservice operations, grocery stores, and small, independent stores to develop their own meal kit services. DailyKit's platform covers both the back end (information for the establishment) and front end (user interface including subscriptions, real-time orders, and preorders) of the meal kit business. Uniquely, consumers can order meal kits in real time, just as they would order takeout or delivery from a restaurant, and have the kits delivered, sometimes within 30 minutes. Learn more »



Image-Based Dietary Tracker


Foodvisor, an app available for Apple and Android, tracks calorie and nutrient intake through photos users upload of their meals and snacks. Users also can input their physical activity to track calories burned, and the app tracks weight and health information if the user chooses to do so. In the paid premium edition of the app, users have access to daily nutrition assessments of their intake and can chat with RDs through the app to receive personalized nutrition advice. The premium version also includes recipes. Learn more »


Have a dietetics-related question that you'd like our expert Toby Amidor, MS, RD, CDN, FAND, to answer? Email TDeditor@gvpub.com or send a tweet to @tobyamidor, and we may feature your query!




Saturated Fats and CVD Risk


Becky Dorner, RDN, LD, FAND

Janelle is a 59-year-old woman who's concerned about her risk of CVD. Her mother died at age 61 from a heart attack, and, even though Janelle is relatively healthy, her LDL cholesterol is above the acceptable range, and she wants to decrease her risk. The information Janelle has found online regarding dietary fat and cholesterol is conflicting. Determined to find the correct answers, she makes an appointment with Becca, an RD, to clear the confusion and ask questions about how and what she should eat for a heart-healthy diet.

Are Low-Carb, High-Protein, and Ketogenic Diets Heart-Healthy?
For decades, evidence has supported a relationship between a diet high in saturated fat, elevated blood lipids, and CVD. Interest in this subject has gained steam due to the recent popularity of low-carb, high-protein, and ketogenic diets, which often are high in animal products that contain saturated fat. Proponents of these diets tend to minimize their health risks and cite studies that downplay the hazards of saturated fat. Despite the hype surrounding these diets over the past few years, evidence-based guidelines haven't changed. A 2019 Scientific Statement by the American College of Cardiology (ACC) and American Heart Association (AHA) concluded that replacing saturated fats with monounsaturated and polyunsaturated fats can be beneficial for reducing risk of CVD. And more bad news for low-carb and ketogenic diet fans comes from the same article: long-standing dietary patterns that focus on low intake of carbohydrates and high intake of animal fat and protein are associated with an increased cardiac and noncardiac mortality rate.

Read more »


Why So Many People Ignore Nutrition Evidence


A food columnist for The Washington Post lays out the psychological factors at play when people tie certain foods or supplements to specific outcomes.



FDA Launches Campaign to Help Consumers Use New Nutrition Facts Label


The FDA announces the rollout of a new campaign, "The New Nutrition Facts Label: What's in It for You?" Resources include an interactive label, downloadable fact sheets, social media posts, videos, and images.


Small Study Suggests Benefits of Big Breakfast



Eating a big breakfast rather than a large dinner may prevent obesity and high blood sugar, according to research published in the Endocrine Society's Journal of Clinical Endocrinology & Metabolism.

Our body expends energy when we digest food for the absorption, digestion, transport, and storage of nutrients. This process, known as diet-induced thermogenesis (DIT), is a measure of how well our metabolism is working and can differ depending on mealtime.

"Our results show that a meal eaten for breakfast, regardless of the amount of calories it contains, creates twice as high diet-induced thermogenesis as the same meal consumed for dinner," says the study's corresponding author, Juliane Richter, PhD, MSc, of University of Lübeck in Germany. "This finding is significant for all people, as it underlines the value of eating enough at breakfast."

Read more »


In the April Issue





Omega-3s for Sports Performance

Malnutrition in Hospitalized Older Adults

Soyfoods & Thyroid Health

Food Insecurity on College Campuses

Eating to Heal a Leaky Gut




A Secure, Anonymous Résumé Bank
Job Alerts Sent to Your E-mail


Have a product or service you want to market to dietitians and nutrition professionals or an open position that you need to fill quickly? Today's Dietitian offers many flexible advertising programs designed to maximize your results. From print advertising to E-Newsletter sponsorships, website advertising to direct mail opportunities, Today's Dietitian helps achieve your goals. Email our experienced account executives today for more information or call 800-278-4400!

Coming up in our May issue is our Spring Showcase. Email a sales representative to be part of this unique advertising opportunity.

AlliedHealthCareers.com is the premier online resource to recruit nutrition professionals. Post your open positions, view résumés, and showcase your facility's offerings all at AlliedHealthCareers.com!


From messenger bags and tote bags to apparel and journals, the Today's Dietitian gift shop has the perfect gift for long-time professionals, recent grads, or even the RD-to-be. Check out our secure online shop today or call toll-free 877-809-1659 for easy and fast ordering.