E-Newsletter

•

September 2022
Eating Nutritiously and Sustainably



The desire among consumers to eat more plant foods or adopt a vegetarian or vegan diet to improve their health and the health of the planet continues to increase. And as they make more sustainable food choices, it's important for RDs to offer them tips and meal planning ideas to achieve their goals.

In this month's E-News Exclusive, Today's Dietitian (TD) discusses various dimensions of sustainable diet patterns, planetary considerations, factors to keep in mind when counseling clients, strategies for planning sustainable family meals, and more.

After reading the article, visit TD's website at www.TodaysDietitian.com to read the digital edition of our August/September issue, which includes articles on Orlando's award-winning restaurants, TD's spring symposium highlights, reversal and remission of diabetes, the booming air fryer trend, and black beans' health benefits and culinary uses.

Please enjoy the E-Newsletter and give us your feedback at TDeditor@gvpub.com, and don't forget to like us on Facebook and follow us on Twitter.

— Judith Riddle, editor

In This E-Newsletter

▼

ADVERTISEMENT


Sustainable Family Meals



By Sharon Palmer, MSFS, RDN

Going green at mealtime is a growing trend. In addition to making family meals healthful and delicious, consumers increasingly want to ensure their meals also are sustainable. According to the 2021 Food and Health Survey from the International Food Information Council, 42% of consumers believe their food choices make an impact on the environment, and 7 out of 10 report that climate change sometimes influences their food purchasing decisions.1 But when you're advising clients on making sustainable choices, what does that mean on the dinner plate?

While many people consider food sustainability to be primarily focused on the environmental factors of food production, there are other facets of sustainable food systems to consider. According to the nonprofit food systems sustainability organization, Food + Planet, there are four dimensions of sustainability for diets, which are as follows:

• Sociocultural. Sustainable diets respect the welfare and rights of individuals, communities, cultures, animals, and the environment. Factors include animal welfare standards, culturally appropriate diets, food justice and sovereignty, and health equity.

• Nutrition. Sustainable diets support human health through their quality, diversity, safety, and accessibility. Factors include diet quality and diversity, food system safety, optimized health outcomes, and reliable food access.



▼

ADVERTISEMENT





Low Glycemic High Protein Rice: The Quest for a Perfect Food



Some perceive rice as a "bad" source of carbohydrates. That's because most varieties of rice have a high glycemic index. This makes rice less favorable to people with diabetes as well as in supporting obesity prevention or weight loss programs. A recent Sustainable, Secure Food Blog post explains how rice breeders in Louisiana developed a new low glycemic index, high protein rice.

According to blogger Herry Utomo, he and colleague Ida Wenefrida and their teams at Louisiana State University have been working on breeding a rice that's higher in protein and has a lower glycemic index.

The first of its kind anywhere in the world, this new variety—"Frontière"—has the lowest glycemic index for any rice. It has 53% more protein than regular rice. Its low glycemic index property enables people with prediabetes or diabetes to eat rice safely. The increase in protein content provides additional lean protein and improves overall rice's nutritional profile.

In addition to the 750 million people suffering malnutrition, there are more than 260 million rice-eating people worldwide affected by diabetes. Providing low glycemic rice that can reach a great portion of these people from diverse cultures with different rice eating preferences is monumental. The low glycemic index, high protein rice that enters US markets this year perhaps can be used as an initial step to meet these great challenges. Frontière is sold commercially as "Parish Rice" and "Cahokia Rice." It's currently being grown on farms in Illinois and Louisiana.



Fatty Foods Not Only Bad for Waistline


According to a news release on Science Daily, eating fatty foods doesn't just pack on the pounds but also is detrimental to one's brain.



Using Salt Substitute Can Be Beneficial


A study shows that using a salt substitute can lower blood pressure as well as stroke and heart attack risk, reports US News & World Report.





CPE Monthly



Learn about the role of probiotics in treating and preventing allergies in the latest issue of Today's Dietitian. Read the CPE Monthly article, take the 10-question online test at CE.TodaysDietitian.com, and earn two CEUs!

Now you can save on CPE Monthly articles! Access 12 courses and their corresponding quizzes for about $8/credit when you sign up for our NEW CPE Monthly Pass!



Upcoming Live Webinars



Comfort, Compassion, and End of Life Nutrition Care
Thursday, September 22, 2022, 2–3 pm ET
Presented by Liz Friedrich, MPH, RD, CSG, LDN, FAND, NWCC
1.0 CDR-approved Ethics CEU! | Registration will take place on the Becky Dorner & Associates website.

Yoga Therapy for Nutrition-Related Conditions: Mechanisms, Evidence, Practical Applications, and Credentialing
Wednesday, September 28, 2022, 2–3:30 pm ET
Presented by Annie Kay, MS, RDN, RYT500, C-IAYT
1.5 CEUs | Register Now »

A Novel Approach for Helping Kids Develop Healthy Eating Skills
Thursday, October 6, 2022, 2–3 pm ET
Presented by Stephanie Meyers, MS, RD, LDN
1.0 CEU | Register Now »

Interprofessional Updates for Diabetes and Telehealth: A Clinician's Guide to Equitable and Collaborative Care
Tuesday, November 1, 2022, 2–3:30 pm ET
Presented by James R. Gavin III, MD, PhD, and Susan Weiner, MS, RDN, CDCES, FADCES
1.5 CEUs | Register Now »

The Path to Understanding Diabetes Care & Management in Communities of Color
Wednesday, November 9, 2022, 2–3 pm ET
Presented by Kimberley Rose-Francis RDN, CDCES, CNSC, LD
1.0 CEU | Register Now »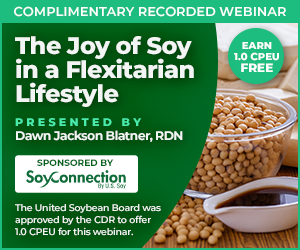 Recorded Webinars



The Joy of Soy in a Flexitarian Lifestyle
Presented by Dawn Jackson Blatner, RDN
1.0 CEU FREE | Sponsored by Soy Connection. The United Soybean Board is approved by the CDR to offer 1.0 CEU for this webinar.
Access the Recording »

Decoding Prebiotics Using a Patient-Centered Approach
Presented by Heather Rasmussen, PhD, RDN
1.0 CEU FREE | Sponsored by The National Honey Board.
Access the Recording »

Food as Lifestyle Medicine for Hormonal Health
Presented by Vicki Shanta Retelny, RDN
1.0 CEU | Access the Recording »

Practical Implementation of Lower Carbohydrate Diets: What You Need to Know
Presented by Jonathan Clinthorne, PhD, and Kristin Kirkpatrick, MS, RD
1.0 CEU FREE | Sponsored by Simply Good Foods USA, Inc. Simply Good Foods USA, Inc, is approved by the CDR to offer 1.0 CEU for this webinar.
Access the Recording »

Prescriptive Treatment for Pediatric Obesity: Nutrition and Pharmacotherapy - Clinical Controversy or Standard of Care?
Presented by Michael Goran, PhD, and Alaina Vidmar, MD
1.0 CEU | Access the Recording »

Healthy Lifestyle Behaviors (Including Good Nutrition) for Heart Health
Presented by Penny M. Kris-Etherton, PhD, RD, FAHA, FNLA, FASN, CLS
1.0 CEU FREE | Sponsored by Love One Today®.
Access the Recording »



Recently Added Self-Study Courses

2023 Spring Symposium



Registration for the 2023 Today's Dietitian Spring Symposium will increase $100 on October 1st, so register now and SAVE!

Make plans to join us next May 14–17 in Savannah, Georgia, and experience first-hand what we have in store for our 10th Anniversary event. Earn CEUs with interactive educational sessions, workshops, and presentations led by some of the foremost experts in dietetics and nutrition. In addition, there will be plenty of opportunities to mix and mingle with fellow attendees, our presenters, and generous sponsors who often come bearing product samples.

Beat the increase!




2022 Spring Symposium Recorded Sessions



Weren't able to attend the Today's Dietitian Spring Symposium? Good News! The recorded sessions are now available for purchase.

The 2022 Today's Dietitian Spring Symposium Recorded Session Package features 19.5 credit hours of high-quality continuing education content in a variety of topics in nutrition and dietetics. Get the 2022 Spring Symposium Recorded Sessions »


Food Journaling App


Instead of counting calories, Ate users journal about what they eat. This food journaling app encourages users to delve into why they ate and how it made them feel. In addition, users can follow friends for inspiration.



Healthful Cooking With Yummly


Healthful cooking is a snap with the Yummly app. Users can search more than 2 million recipes according to need—cuisine, diet, ingredients, and more. It includes shopping lists for convenience and offers reviews for each recipe.
In the October Issue



• Natural Brown Sugars and Syrup Sweeteners
• The Whole Foods Plant-Based Diet Debate
• Upcycling Innovations
• Link Between RED-S and Eating Disorders
COVER STORY
Orlando's Best Cuisine
Forget the iconic theme parks; the real magic is happening in Orlando's restaurants, bakeries, and farmers' markets. Pack your bags and get ready to savor the flavors of the Sunshine State!

FEATURE
Are Prediabetes and Type 2 Diabetes Reversible?
Claims abound that individuals can "reverse" their diabetes with certain diets or products. But what do the experts have to say? Today's Dietitian examines a recent consensus report on the matter.


Advertising Opportunities
Have a product or service you want to market to nutrition professionals? Utilize the reach of Today's Dietitian Magazine to accomplish your marketing goals. Email our experienced account executives today at sales@gvpub.com or call 800-278-4400 for more information.


© 2022 Today's Dietitian Magazine