E-Newsletter

•

October 2022
Editor's E-Note



Counseling Clients on Plant-Based Diets

As consumers incorporate more plant-based foods into their diets or decide to follow a vegetarian or vegan eating pattern, they may be misinformed or concerned about how to meet their daily nutrition requirements.

In this month's E-News Exclusive, Today's Dietitian (TD) addresses the most common nutrition issues among these consumers and provides counseling strategies for RDs.

After reading the article, visit TD's website at www.TodaysDietitian.com to read the digital edition of our October issue, which includes articles on natural brown sugars and syrup sweeteners, the low-fat whole-foods plant-based diet, upcycling innovations, and the link between RED-S and eating disorders.

We want to thank you for stopping by our booth at the National Conference this month in Orlando! We hope you were able to say hello to the TD team and pick up copies of our Conference Issues. Next year, we hope to see you in person at our 10th Annual 2023 Spring Symposium in Savannah, Georgia!

Please enjoy the E-Newsletter and give us your feedback at TDeditor@gvpub.com, and don't forget to like us on Facebook and follow us on Twitter.

— Judith Riddle, editor

In This E-Newsletter

▼

ADVERTISEMENT





Common Nutrition Issues for Plant-Based Clients



By Sharon Palmer, MSFS, RDN

Plant-based eating may be a more mainstream lifestyle choice today, but it still comes with a variety of concerns among consumers. With more than one-half of Americans open to eating more plant-based foods, dietitians can expect to receive more questions about this eating style.1 This interest has prompted a flood of plant-based products; plant-based food sales grew 6.2% in 2021 over a record year of growth in 2020, bringing total sales to $7.4 billion.2 There are plant-based alternatives in just about every section of the supermarket: deli foods, prepared foods, canned foods, frozen foods, bakery, and even the meat counter. And plant-based foods, such as dairy and meat alternatives, can have vastly different nutritional contents. In addition, it's vital to be in tune with non–evidence-based information on plant-based diets making rounds on the internet. Case in point: The claim that "dirt on carrots provides enough vitamin B12 to meet your needs" (The answer is "no" it doesn't). So how do clients choose plant-based foods and supplements that will help them meet their nutritional needs for optimal health?

Research shows that well-planned plant-based diets, including vegetarian and vegan, offer many health benefits and even may reduce the environmental footprint associated with diet, but there are several key nutrition issues to consider. Dietitians must stay abreast of relevant nutrition information, which includes research on plant-based diets and health outcomes and new products hitting the market. Recommend clients new to a plant-based lifestyle see a dietitian familiar with plant-based diets to evaluate their nutrition status and create an individualized meal plan that meets their needs. One source of evidence-based information, as well as a list of plant-based dietitian experts in locations around the country, may be found at the Academy of Nutrition and Dietetics' Vegetarian Nutrition Dietetic Practice Group (VNDPG).

Today's Dietitian asked top plant-based dietitians to weigh in on some of the most common issues they see among clients who follow plant-based diets.






Skipping Breakfast May Increase Chance of Kids and Teens Developing Psychosocial Health Problems



Young people who eat healthful breakfasts at home have better psychosocial health, a recent study shows in Frontiers in Nutrition. While previous research has reported the important role of a nutritious breakfast, this is the first study to examine the reported effects of whether kids eat breakfast, as well as where and what they eat. These results provide valuable insights and recommendations for parents and their children.

"Our results suggest that it isn't only important to eat breakfast, but it's also important where young people eat breakfast and what they eat," says first author José Francisco López-Gil, PhD, of the University of Castilla-La Mancha in Cuenca, Spain. "Skipping breakfast or eating breakfast away from home is associated with increased likelihood of psychosocial behavioral problems in children and adolescents. Similarly, consumption of certain foods/drinks are associated with higher [eg, processed meat] or lower [eg, dairies, cereals] odds of psychosocial behavioral problems."





Dietary Sugar Alters Gut Microbiome


According to Science Daily, the gut microbiome is altered by dietary sugar, leading to metabolic disease, prediabetes, and weight gain.



The Efficacy of Weight-Loss Drugs


US News & World Report notes the plethora of diet products on the market, then poses the question: "Do weight-loss drugs really help?"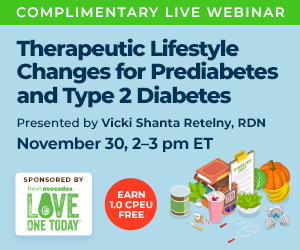 CPE Monthly



In this month's issue of Today's Dietitian, learn about thyroid disease and weight management. Read the CPE Monthly article, take the 10-question online test at CE.TodaysDietitian.com, and earn two CPEUs!

Now you can save on CPE Monthly articles! Access 12 courses and their corresponding quizzes for about $8/credit when you sign up for our NEW CPE Monthly Pass!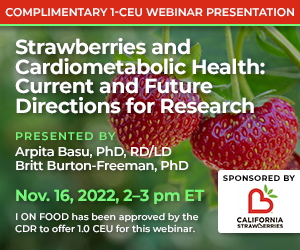 Upcoming Live Webinars



Interprofessional Updates for Diabetes and Telehealth: A Clinician's Guide to Equitable and Collaborative Care
Tuesday, November 1, 2022, 2–3:30 pm ET
Presented by James R. Gavin III, MD, PhD, and Susan Weiner, MS, RDN, CDCES, FADCES | 1.5 CEUs | Register Now »

Insulin Delivery Devices Today, Tomorrow, and Beyond: What RDs Need to Know Now
Thursday, November 3, 2022, 2–3 pm ET
Presented by Hope Warshaw, MMSc, RD, CDCES, BC-ADM, FADCES
1.0 CEU | Register Now »

The Path to Understanding Diabetes Care & Management in Communities of Color
Wednesday, November 9, 2022, 2–3 pm ET
Presented by Kimberley Rose-Francis RDN, CDCES, CNSC, LD
1.0 CEU | Register Now »

Strawberries and Cardiometabolic Health: Current and Future Directions for Research
Wednesday, November 16, 2022, 2–3 pm ET
Presented by Arpita Basu, PhD, RD/LD, and Britt Burton-Freeman, PhD
1.0 CEU FREE | Sponsored by The California Strawberry Commission. I ON FOOD has been approved by the CDR to offer 1.0 CEU for this webinar. Register Now »

Therapeutic Lifestyle Changes for Prediabetes and Type 2 Diabetes
Wednesday, November 30, 2022, 2–3 pm ET
Presented by Vicki Shanta Retelny, RDN
1.0 CEU FREE | Sponsored by Love One Today®. Register Now »

The Farm Bill: Implications for the Food System and Dietetic Practice
Wednesday, December 7, 2022, 2–3 pm ET
Presented by Christina Badaracco, MPH, RDN, LDN
1.0 CEU | Register Now »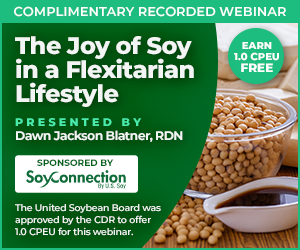 Recorded Webinars



Teaching Clients the How & Why of a Flexitarian Eating Style
Presented by Dawn Jackson Blatner, RDN
1.0 CEU FREE | Sponsored by Danone North America. Tango Communications was approved by the CDR to offer 1.0 CEU for this webinar.
Access the Recording »

A Novel Approach for Helping Kids Develop Healthy Eating Skills
Presented by Stephanie Meyers, MS, RD, LDN
1.0 CEU | Access the Recording »

Yoga Therapy for Nutrition-Related Conditions: Mechanisms, Evidence, Practical Applications, and Credentialing
Presented by Annie Kay, MS, RDN, RYT500, C-IAYT
1.5 CEUs | Access the Recording »

Comfort, Compassion, and End of Life Nutrition Care
Presented by Liz Friedrich, MPH, RD, CSG, LDN, FAND, NWCC
1.0 CDR-approved Ethics CEU! | Access the Recording »

Health Literacy: Practical Interprofessional Strategies for Enhancing Health Equity
Presented by Brenda Hage, PhD, DNP, CRNP, CCM, and David Hage, MSW, LCSW, ACSW, C-ASWCM
1.0 CEU | Access the Recording »

A Guide to Prebiotics & the Gut Microbiome
Presented by Hannah Holscher, PhD, RD
1.0 CEU FREE | Sponsored by The BENEO-Institute. The BENEO INSTITUTE is approved by the CDR to offer 1.0 CEU for this webinar.
Access the Recording »

The Joy of Soy in a Flexitarian Lifestyle
Presented by Dawn Jackson Blatner, RDN
1.0 CEU FREE | Sponsored by Soy Connection. The United Soybean Board is approved by the CDR to offer 1.0 CEU for this webinar.
Access the Recording »



Recently Added Self-Study Courses

2023 Spring Symposium



Make plans to join us next May 14–17 in Savannah, Georgia, and experience first-hand what we have in store for our 10th Anniversary event. Earn CEUs with interactive educational sessions, workshops, and presentations led by some of the foremost experts in dietetics and nutrition. In addition, there will be plenty of opportunities to mix and mingle with fellow attendees, our presenters, and generous sponsors who often come bearing product samples.




2022 Spring Symposium Recorded Sessions



Weren't able to attend the Today's Dietitian Spring Symposium? Good News! The recorded sessions are now available for purchase.

The 2022 Today's Dietitian Spring Symposium Recorded Session Package features 19.5 credit hours of high-quality continuing education content in a variety of topics in nutrition and dietetics. Get the 2022 Spring Symposium Recorded Sessions »
App Provides Parenting Support


With Ovia Health, a woman can track her cycle, monitor her baby's development, and share her child's special moments. Parents can receive on-demand health coaching services, such as breast-feeding support. Licensed family health professionals provide guidance seven days per week, and sessions are unlimited.



Help for Food Intolerances


More than 1,000 foods—from common to exotic—are listed in Food Intolerances, an app for iPhone or Android. It helps people with food allergies determine what they can eat. Food additives also are covered.
In the November/December Issue



• RDs' Favorite Healthful Holiday Desserts
• Hemp-Fortified Foods and Beverages
• Silent Reflux Disease
• The Latest Insulin Delivery Devices
• Meeting Nutrition Needs for Vegan and Vegetarian Children
COVER STORY
Natural Brown Sugars & Syrup Sweeteners
Many sugar lovers are searching for more healthful sweet alternatives, but how do the natural varieties stack up?

FEATURE
The WFPB Diet Debate
Today's Dietitian explores the research on the low-fat vs higher-fat versions of the whole-foods plant-based diet and their impact on overall health.


Advertising Opportunities
Have a product or service you want to market to nutrition professionals? Utilize the reach of Today's Dietitian Magazine to accomplish your marketing goals. Email our experienced account executives today at sales@gvpub.com or call 800-278-4400 for more information.


© 2022 Today's Dietitian Magazine