E-Newsletter

•

July 2022
Changing Seasons



If you're a veteran RD, you know there was a time when securing a dietetic internship to become an RD was a difficult and sometimes frustrating task. There usually were many more applicants than available positions—which meant you had to wait and try again. Surprisingly, this is no longer the case. Now, there are many more internship spots than applicants. What in the world has happened?

Today's Dietitian speaks with dietetics educators to find out what has changed and the underlying factors responsible for this shift.

After reading the article, visit TD's website at www.TodaysDietitian.com to read the digital edition of our June/July issue, which includes articles on how the foodservice industry is bouncing back from COVID-19, disparities in hypertension and kidney disease in pregnancy, malnutrition screening tools for cancer outpatients, and what's next for agriculture technology.

Please enjoy the E-Newsletter and give us your feedback at TDeditor@gvpub.com, and don't forget to like us on Facebook and follow us on Twitter.

— Judith Riddle, editor

In This E-Newsletter



Why Are There So Many Dietetic Internships Available?



By Brianna Tobritzhofer, MS, RD, LD

RDs are familiar with the steps required to become credentialed, including using the online Dietetic Internship Centralized Application System (DICAS) Match system to be placed in a dietetic internship (DI) program. In the last few rounds of DICAS Match, there's been a considerable change in the number of spots available for interns vs the number of applicants.

According to the Accreditation Council for Education in Nutrition and Dietetics, 73% of applicants were accepted to DIs through DICAS in 2021. Compare this with 2016, when the acceptance rate was only 51%. One reason for the growth in acceptance rates is that there are more spots available for interns than there are applicants. For example, there were 3,723 DI openings in 2021 but only 3,676 applicants. However, the reasons behind this disparity are unclear.

While research hasn't been conducted to explain the shift in applicant numbers vs spots available, Didactic Program in Dietetics (DPD) and internship faculty have experienced the impact of changing applicant numbers firsthand. Today's Dietitian speaks with some of these staff members, who provide insights on reasons for the shift and how it may impact the future of dietetics.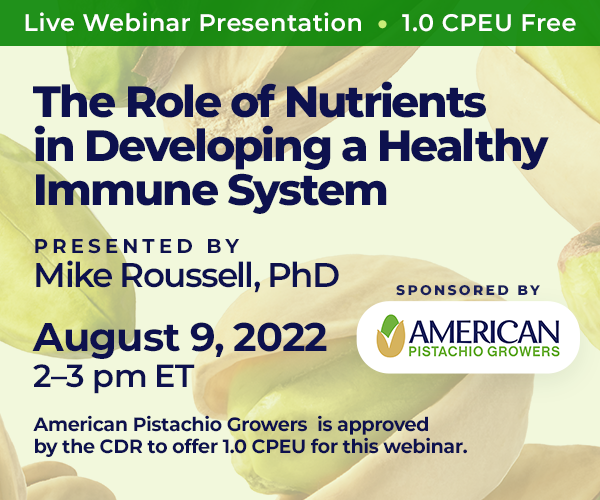 Chicken Protein May Be More Bioavailable Than Protein From Plant-Based Meat



Plant-based meat alternatives are highly popular, with novel varieties emerging constantly. Plants high in protein, such as soybeans, are common ingredients, but it's been unclear how much of that protein human cells can absorb.

In the American Chemical Society's Journal of Agricultural and Food Chemistry, researchers report that proteins in a model plant-based substitute weren't as accessible to cells as those from meat. The team says this knowledge eventually could be used to develop more healthful plant-based products.

Plant-based meat alternatives often are thought of as more healthful than animal meats because the plants used to make them are high in protein and low in undesirable fats. However, lab tests have shown that proteins in substitutes don't break down into peptides as well as those from meats. Study authors wanted to go a step further and see whether human cells can absorb similar amounts of peptides from a model meat alternative as they can from a piece of chicken.

The researchers created a model meat alternative made of soy and wheat gluten with the extrusion process. When cut open, the material had long, fibrous pieces inside, just as chicken does. Cooked pieces of the substitute and chicken meat were then ground up and broken down with an enzyme that humans use to digest food.

In vitro tests showed that meat substitute peptides were less water-soluble than those from chicken, and they also weren't absorbed as well by human cells. With this new understanding, the researchers say the next step is to identify other ingredients that could help boost the peptide uptake of plant-based meat substitutes.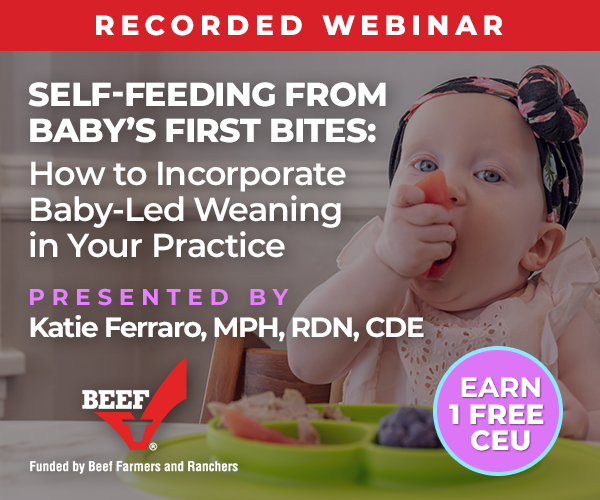 Researchers Develop Method for Identifying Metabolic Products of Food


Scientists from UC San Diego have identified a way to analyze blood and stool samples to determine an individual's dietary pattern, with results published in Nature Biotechnology.



Study Suggests Link Between Hunger and Anger


It turns out that being "hangry" likely is a real phenomenon; a new study published in PLOS One demonstrated that hunger is significantly associated with anger and irritability, reports USA TODAY.
CPE Monthly



Learn about fluid balance and dehydration and their associated cognitive and health impacts in this month's issue of Today's Dietitian. Read the CPE Monthly article, take the 10-question online test at CE.TodaysDietitian.com, and earn two CEUs!

Want to save on CPE Monthly articles? Access the course and the quiz for about $8/credit when you sign up for our newest discount: the CPE Monthly Pass!



Upcoming Live Webinars



The Role of Nutrients in Developing a Healthy Immune System
Tuesday, August 9, 2022, 2–3 pm ET
Presented by Mike Roussell, PhD
1.0 CEU FREE | Sponsored by American Pistachio Growers. American Pistachio Growers is approved by the CDR to offer 1.0 CEU for this webinar.
Register Now »

Healthy Lifestyle Behaviors (Including Good Nutrition) for Heart Health
Thursday, August 11, 2022, 2–3 pm ET
Presented by Penny M. Kris-Etherton, PhD, RD, FAHA, FNLA, FASN, CLS
1.0 CEU FREE | Sponsored by Love One Today®. Love One Today® is approved by the CDR to offer 1.0 CEU for this webinar.
Register Now »

Decoding Prebiotics Using a Patient-Centered Approach
Thursday, September 1, 2022, 2–3 pm ET
Presented by Heather Rasmussen, PhD, RDN
1.0 CEU FREE | Sponsored by The National Honey Board.
Register Now »

Yoga Therapy for Nutrition-Related Conditions: Mechanisms, Evidence, Practical Applications, and Credentialing
Wednesday, September 28, 2022, 2–3:30 pm ET
Presented by Annie Kay, MS, RDN, RYT500, C-IAYT
1.5 CEUs | Register Now »

A Novel Approach for Helping Kids Develop Healthy Eating Skills
Thursday, October 6, 2022, 2–3 pm ET
Presented by Stephanie Meyers, MS, RD, LDN
1.0 CEU | Register Now »



Recorded Webinars



Nutrition and Oral Health: A Primer for RDs
Presented by Ellen Karlin, MMSc, RDN, LDN, FADA
1.0 CEU | Access the Recording »

Self-Feeding from Baby's First Bites: How to Incorporate Baby-Led Weaning in Your Practice
Presented by Katie Ferraro, MPH, RDN, CDE
1.0 CEU FREE | Sponsored by The National Cattlemen's Beef Association, a Contractor to the Beef Checkoff. The National Cattlemen's Beef Association, a Contractor to the Beef Checkoff, is approved by the CDR to offer 1.0 CEU for this webinar. | Access the Recording »

Trauma-Informed Care: The Dietitian's Role and Nutritional Interventions
Presented by Amy Helms, LISW-CP, MS, CEDS-S, RD, LD, CCTPII, P-SEP
1.0 CEU | Access the Recording »

Fermented Foods and Health: Does Today's Science Support Yesterday's Tradition?
Presented by Hannah Holscher, PhD, RD, and Jennifer Burton, MS, RD, LDN
1.0 CEU FREE | Sponsored by ISAPP. Mary Ellen Sanders is approved by the CDR to offer 1.0 CEU for this webinar. | Access the Recording »



Recently Added Self-Study Courses

2023 Spring Symposium



Today's Dietitian is hosting our 10th annual continuing education and networking event May 14–17, 2023, in Savannah, GA, and you don't want to miss this one!

Early-Bird Registration is open right now, so make plans to join us next May and experience what we have in store for our 10th Anniversary event. You'll get the opportunity to earn CEUs with sessions, workshops, and presentations led by some of the foremost experts in dietetics and nutrition.

In addition, there will be a variety of opportunities to interact with fellow attendees and our presenters, as well as sponsors who often come bearing product samples. Put simply, our Spring Symposium is unlike other events for dietitians and nutrition professionals.


Resistance Training


The Vitruvian Trainer+ is a resistance training platform that uses artificial intelligence to tailor weight training to each user, offering resistance of up to 440 lbs. The accompanying app offers coached sessions, workout tracking, and the ability to compete with other users. Learn more »



Counting Calories With Peer Support


The MyPlate Calorie Counter app, available for Apple and Android, enables users to track their meals, nutrient intake, and exercise, and provides recipes, meal plans, and workouts. The community section of the app offers peer support, motivation, and member tips. Learn more »
In the August/September Issue



• Orlando's Best Cuisine
• Today's Dietitian's 9th Annual Spring Symposium Highlights
• Air Fryer Cooking
• Black Beans
• Are Prediabetes and Type 2 Diabetes Reversible?
COVER STORY
Is Foodservice on the Rebound?
Restaurants and other eating establishments still struggle to cope with the pandemic's long shadow, but menu innovations and resilient adaptations abound to draw diners and spur growth.

FEATURE
Hypertensive Disorders and Kidney Disease in Pregnancy
Today's Dietitian examines a recent study that shows glaring health inequities between racial groups when it comes to these serious conditions, and speaks with experts about how to pave a way forward.


Advertising Opportunities
Have a product or service you want to market to nutrition professionals? Utilize the reach of Today's Dietitian Magazine to accomplish your marketing goals. Email our experienced account executives today at sales@gvpub.com or call 800-278-4400 for more information.


© 2022 Today's Dietitian Magazine