Spotlight on Autoimmunity



Throughout the past winter season, many people were focused on boosting their immune system to ward off infectious diseases such as the common cold, the flu, and COVID-19. And while a strong immune system certainly is our friend, there are times it goes awry and begins attacking healthy cells, leading to autoimmune diseases that warrant ongoing treatment.

In this month's E-News Exclusive, Today's Dietitian (TD) discusses what autoimmunity is and the research on how diet and nutrition may help prevent and manage a variety of autoimmune diseases.

After reading the article, visit TD's website at www.TodaysDietitian.com to read the digital edition of the March issue, which includes articles on medicinal mushrooms, micronutrients' role in COVID-19, plant-based labels and certifications, and our 12th annual TD10 feature profiling the top 10 amazing RDs you helped nominate for the incredible work they do in dietetics.

Don't forget to check out RDLounge.com where you can read and comment on blogs written by RDs for RDs. We're welcoming new guest bloggers, so if you're interested in writing, please contact me at the e-mail listed below.

Please enjoy the E-Newsletter and give us your feedback at TDeditor@gvpub.com, and don't forget to like us on Facebook and follow us on Twitter.

— Judith Riddle, editor




Diet's Role in Autoimmunity


By Anne Danahy, MS, RDN

If you feel like you're seeing more patients lately with autoimmune diseases, you're probably right. Autoimmunity is rising in the United States, especially among males, non-Hispanic whites, adults aged 50 and older, and adolescents.1

What follows is a discussion on the definition of autoimmunity and an evaluation of the current research on the possible risk factors that may lead to autoimmune disease and how diet may play a role in prevention and management.

What Is Autoimmunity?
In autoimmunity, the immune system mistakenly attacks healthy cells. Although everyone has some degree of autoimmunity, it can progress to an autoimmune disease in some people. According to the American Autoimmune Related Disease Association, there are at least 100 autoimmune diseases that affect nearly every organ or system in the body.2

Autoimmunity is commonly identified by the presence of antinuclear antibodies (ANA). A June 2020 study in Arthritis & Rheumatology found the prevalence of ANA increased from 11% to 15.9% between 1998 and 2012 in the United States.1

Full story »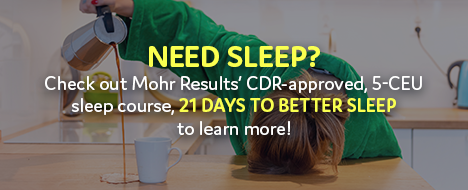 Upcoming Live Webinar



Traditional Diets in Focus: The Benefits of the Nordic Diet
Thursday, April 15, 2021, 2–3 PM ET
Presented by Sharon Palmer, MSFS, RDN
1 CEU FREE | Sponsored by Wasa | Sharon Palmer was approved by the CDR to offer 1.0 CPEU for this webinar. | Register Now »






Recorded Webinars



How to Support Your Immune System During a Pandemic (and Beyond)
Presented by Stacy Kennedy, MPH, RD, LDN, CSO | 1 CEU FREE
Sponsored by Fresh Avocados - Love One Today
Access the Recording »

Take 1: Using Live Cooking Demonstrations to Scale Your Nutrition Practice: Creating Virtual Experiences
Presented by Jeanne Petrucci, MS, RDN
1 CEU | Access the Recording »

PART 1: Navigating the 2021 Standards of Medical Care in Diabetes: Lifestyle Modification for Adults with Type 2 Diabetes
Presented by Kathy Warwick, RDN, CDCES
1 CEU | Access the Recording »

PART 2: Navigating the 2021 Standards of Medical Care in Diabetes: Strategies for Prevention or Delay of Type 2 for Adults with Prediabetes
Presented by Kathy Warwick, RDN, CDCES
1 CEU | Access the Recording »

The Top 10 Benefits of Pulses: From Lentils and Chickpeas to Dry Peas and Beans
Presented by Amy Myrdal Miller, MS, RDN, FAND
1 CEU FREE | Sponsored by USA Pulses | Access the Recording »

An In-Depth Look at the 2020-2025 Dietary Guidelines for Americans
Presented by Toby Amidor, MS, RD, CDN, FAND | 1 CEU FREE | Sponsored by Fresh Avocados - Love One Today | Access the Recording »

Getting Better Zzzs to Prevent Disease
Presented by Karman Meyer, RD, LDN | 1 CEU | Access the Recording »



Recently Added Self-Study Courses



2021 Spring Symposium

Explore the range of topics that will comprise the educational program for the 8th Annual Today's Dietitian Spring Symposium May 16–19. Meet our presenters and view their session abstracts.




Have a product or service you want to market to dietitians and nutrition professionals or an open position that you need to fill quickly? Today's Dietitian offers many flexible advertising programs designed to maximize your results. From print advertising to E-Newsletter sponsorships, website advertising to direct mail opportunities, Today's Dietitian helps achieve your goals. Email our experienced account executives today for more information or call 800-278-4400!

AlliedHealthCareers.com is the premier online resource to recruit nutrition professionals. Post your open positions, view résumés, and showcase your facility's offerings all at AlliedHealthCareers.com!




Actively Preparing or Watching Others Prepare Food Can Lead to Eating More



A team of researchers led by Jane Ogden, PhD, a professor of health psychology at the University of Surrey in the United Kingdom, investigated the impact of actively preparing or watching others prepare food (eg, on a cooking show) vs distraction away from this focus. Researchers sought to understand how this may affect the amount of food consumed and influence the desire to continue eating.

To investigate this further, 80 female participants were recruited and assigned to one of four groups: active food preparation (preparing a cheese wrap within 10 minutes), video food preparation (watching a video of a researcher preparing a cheese wrap), distraction (undertaking a 10-minute coloring task), and a control group. All groups were then requested to eat the wrap.

Researchers measured how much of the wrap each participant ate and assessed their desire to continue eating (rating statements such as "I could eat now," "I do not want to eat," and "I am thinking about food"). It was found that those who had either actively prepared the wrap or watched someone else do so consumed more and reported a greater desire to eat than those in the distraction group.

Read more »


Managing Constipation With Nutrition


Kate McManus, MPH, RD, CSCS

As RDs, we aren't shy about discussing bowel movements with our clients. Not everyone, however, is as open about sharing their bodily functions or bathroom habits. But they're important to discuss, as bowel patterns can say plenty about one's health and dietary patterns.

Constipation, generally defined as three or fewer bowel movements in one week, affects up to 20% of Americans. Constipation can lead to a wide variety of complications such as hemorrhoids, fecal impaction, and diverticulitis. In the most serious cases, it can be a symptom of potentially life-threatening or disabling conditions such as colorectal cancer, irritable bowel syndrome, diabetes, or neurological disorders.

Read more »


Opinion: It's Time for a Federal-Level Nutrition Conference


In The Hill, nutrition and policy experts call on the Biden Administration to hold the White House Conference on Food, Nutrition, and Health—the first (and only) of which was hosted in 1969—to collaborate on solutions to poor nutrition, hunger, and chronic disease.



Deciphering the Genetics of Eating Disorders


A new study of the genomes of tens of thousands of Britons has shed light on the genetic basis of eating disorders, including anorexia, bulimia, and binge eating disorder, according to a press release on ScienceDaily. 


In the April Issue



Soy Antinutrients

Electrolytes' Role in Optimal Hydration

Pregnancy Weight Gain

The "Magic" of Matcha

Cranberry Products and UTIs



At-Home Gamified Boxing System


Liteboxer is a full-body interactive boxing platform with a punching pad that offers more than 50 trainer-led classes in boxing, strength training, and stretching/recovery. Users can engage in games on the platform, such as boxing to the beat of music, and the device measures punching force, accuracy, and stamina, metrics through which one can compete with other users. Learn more »



App for Drinking Habits and Goals


Cutback Coach is an app that can help users build more healthful alcohol drinking habits and drink more mindfully. The app builds a custom plan for users, assessing their current drinking habits, goals, and reasons for wanting to moderate alcohol intake, such as avoiding hangovers, improving overall wellness, saving money, and losing weight. Weekly planning and daily personalized support are among the app's features to help users meet their goals. Learn more »



A Secure, Anonymous Résumé Bank
Job Alerts Sent to Your E-mail


Have a dietetics-related question that you'd like our expert Toby Amidor, MS, RD, CDN, FAND, to answer? Email TDeditor@gvpub.com or send a tweet to @tobyamidor, and we may feature your query!


From messenger bags and tote bags to apparel and journals, the Today's Dietitian gift shop has the perfect gift for long-time professionals, recent grads, or even the RD-to-be. Check out our secure online shop today or call toll-free 877-809-1659 for easy and fast ordering.