Can Probiotics Resolve Most GI Disorders?



Probiotics in food and in the form of supplements have been touted for years as promoters of overall digestive health. But what does the evidence really say?

In this month's E-News Exclusive, Today's Dietitian (TD) provides highlights of the latest clinical guidelines on probiotic use for the treatment and management of GI disorders from the American Gastroenterological Association and discourages use of probiotics for GI problems that isn't backed by research.

After reading the article, visit TD's website at www.TodaysDietitian.com to read the digital edition of the October issue, which includes articles on ethics in the plant-based food movement, probiotics and immune health, tips for meeting weekly seafood requirements, and a Q&A on telehealth in private practice.

Don't forget to check out RDLounge.com where you can read and comment on blogs written by RDs for RDs. We're welcoming new guest bloggers, so if you're interested in writing, please contact me at the e-mail listed below.

Be certain to stop by our virtual booth at the fast-approaching national conference in October. Here, you'll be able to access digital versions of our highly anticipated conference issues, learn more about TD's 2021 Spring Symposium, and chat with members of the TD team!

Please enjoy the E-Newsletter and give us your feedback at TDeditor@gvpub.com, and don't forget to like us on Facebook and follow us on Twitter.

— Judith Riddle, editor



Rethinking the Efficacy of Probiotics for Digestive Health


By Matt Knight, RDN, LDN

Highlights from the AGA's Newly Released Clinical Guidelines

Earlier this year, the American Gastroenterological Association (AGA) released new clinical guidelines for the use of probiotics in managing gastrointestinal (GI) disorders.1,2 The AGA is a professional organization representing gastroenterologists and other clinicians who specialize in digestive health.

These new guidelines represent the first clinical guidance focusing on single-strain or multistrain formulations of probiotics and their efficacy for specific digestive conditions. The AGA's findings run counter to conventional thinking and may require dietitians and other health professionals to rethink their position on the therapeutic use of probiotic supplements.

Here's a quick refresher on probiotics for RDs who may not counsel clients regularly on their use.

Full story »






September CE Specials



Healthy Aging Month
To help celebrate healthy aging month, get 15% off all Geriatric Nutrition CE* now through the end of September. Check out the applicable courses in our course catalog, use code

AGEWELL

at checkout, and get your discount today! View Courses »

National Food Safety Education Month
Get 15% off Food Safety CE!* Understanding food safety and food allergies and taking the appropriate precautions is essential for your clients' health and well-being. Help your clients and yourself by learning more! Purchase select food safety CE courses and save 15% when you use code

SAFEFOOD

at check out! View Courses »



* Coupon cannot be combined with any other offers. Discount will be applied to already-reduced price for CE Club Members; coupon is not valid for Lifetime Members. Offer expires 9/30/20 at 11:59 PM EDT





Upcoming Live Webinars

Insulin Delivery Devices Today and Beyond: What RDs Need to Know Wednesday, October 7, 2020, 2–3 PM EDT Presented by Hope Warshaw, MMSc, RD, CDE, BC-ADM 1 CEU

|

Register Now

»

COVID Can't Stop Us: How to Deliver Live Virtual Cooking Classes and Demos on Zoom Wednesday, October 14, 2020, 2–3 PM EDT Presented by Liz Weiss, MS, RDN 1 CEU

|

Register Now

»

New Recorded Webinars

Discovering Adaptogens: Stress-Reducing Herbs Presented by Vicki Shanta Retelny, RDN 1 CEU

|

Access the Recording

»

A Dangerous Combination: Fad Dieting and Social Media Presented by Emily Presbrey, MS, RD, LDN 1 CEU

|

Access the Recording

»

Why RDs Need to Be Trash Talking Presented by Dr. Joan Salge Blake, EdD, MS, RDN, LDN, FAND 1 CEU

|

Access the Recording

»

Maximizing Performance With a Plant-Based, Dairy-Enhanced Approach Presented by Marie Spano, MS, RD, CSCS, CSSD 1 CEU FREE

| Sponsored and accredited by

National Dairy Council

|

Access the Recording

»

Work-Life Balance: Personal and Professional Satisfaction for Practitioners Presented by Sohailla Digsby, RDN, LD 1.5 CEUs

|

Access the Recording

»

Sustainable Food Systems Master Class: Faculty Roundtable Presented by Sherene Chou, MS, RD, Kate Geagan, MS, RD, Sharon Palmer, MSFS, RDN, and Chris Vogliano, MS, RD 1 CEU FREE

| Sponsored by

Danone

,

Clif Bar & Company

, and

Barilla

|

Access the Recording

»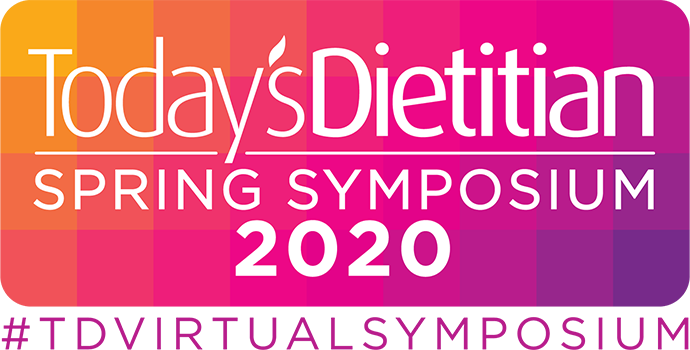 2020 Spring Symposium Recorded Sessions



Looking for additional credits? Recorded sessions from Today's Dietitian 2020 Spring Symposium are now available. Earn more than 20 CEUs for just $499. Learn more »



2021 Spring Symposium — Denver, Colorado

For those who were unable to join us this year or for those planning their 2021 CPEU program, join us next year for our 2021 Symposium at the

Hyatt Regency Denver

in

Denver, Colorado, May 16–19, 2021!


Have a product or service you want to market to dietitians and nutrition professionals or an open position that you need to fill quickly? Today's Dietitian offers many flexible advertising programs designed to maximize your results. From print advertising to E-Newsletter sponsorships, website advertising to direct mail opportunities, Today's Dietitian helps achieve your goals. Email our experienced account executives today for more information or call 800-278-4400!

Coming up in our November/December issue is our Diabetes Showcase and Wellness & Prevention Annual Resource Guide. Email a sales representative to be part of this unique advertising opportunity.

AlliedHealthCareers.com is the premier online resource to recruit nutrition professionals. Post your open positions, view résumés, and showcase your facility's offerings all at AlliedHealthCareers.com!


From messenger bags and tote bags to apparel and journals, the Today's Dietitian gift shop has the perfect gift for long-time professionals, recent grads, or even the RD-to-be. Check out our secure online shop today or call toll-free 877-809-1659 for easy and fast ordering.


Have a dietetics-related question that you'd like our expert Toby Amidor, MS, RD, CDN, FAND, to answer? Email TDeditor@gvpub.com or send a tweet to @tobyamidor, and we may feature your query!


Study Suggests Sweet Taste Perception Changes as Children Develop



Compared with adults, children and adolescents are less sensitive to the sweet taste and need 40% more sucrose in a solution for them to detect the taste of sugar, according to a new study.

Along with higher taste detection thresholds, both children and adolescents prefer significantly more concentrated levels of sweetness than adults.

"Both of these dimensions of sweet-taste perception—sensitivity and preference—undergo distinct developmental trajectories from childhood to adulthood," says M. Yanina Pepino, PhD, a professor of food science and human nutrition at the University of Illinois, Urbana-Champaign, who cowrote the study. "However, they did so independently, and we found no association between the two."

Read more »


Eating Disorders and Veganism


Taylor Wolfram, MS, RDN, LDN

Are you concerned about a potential overlap between veganism and eating disorders?

While veganism is a social justice movement (extending far beyond food) that aims to eliminate animal exploitation and suffering as far as is possible and practicable, its dietary restrictions can be misused when someone is susceptible to or is already suffering from an eating disorder.

So, how do you know when a plant-based diet is being used for restriction, and is it even possible for a vegan client to recover from an eating disorder while remaining vegan?

Read more »


WHO Releases Trans Fat Elimination Progress Report


In a new report, the World Health Organization examines global progress toward its goal of eliminating trans fat from the food supply by 2023. It notes in a press release that while more than 3 billion people are protected from trans fat in food, 11 of the 15 countries with the highest CVD mortality haven't implemented anti–trans fat measures.



Researchers to Study Maternal Malnutrition


Investigators at George Washington University in Washington, D.C., have been awarded a grant to determine ways to decrease malnutrition in pregnant women. The researchers believe their findings could change some nutrient intake recommendations, according to The GW Hatchet.


In the November/December Issue



Advocating Biodiversity in Diets

Brain-Healthy Holiday Foods

Cannabis in Cancer Care

Diabetes Drugs Update

Postnatal Supplementation

Shaping Better Nutrition Messages



App for Personalized Daily Workouts


Fitbod, available for Apple and Android, is an app that creates custom workouts for users, taking into account a user's strength training abilities, past workouts, and available gym equipment. Workouts include sets, reps, and weights for each strength training exercise and increased intensity with time. Fitbod is compatible with smartwatches for simpler workout logging. Learn more »



Socially Linked Fitness With Celebrity Trainers


FitOn, available for Apple and Android, is a mobile app offering personalized fitness plans and workouts with celebrity trainers. Available exercises include cardio, high-intensity interval training, strength training, dance/barre, yoga/Pilates, and pre- and postnatal workouts. These workouts can be streamed on a laptop, tablet, smartphone, or TV, and users can connect with other friends using the app in real time to exercise together virtually. Learn more »



A Secure, Anonymous Résumé Bank
Job Alerts Sent to Your E-mail