Will Omega-3s Help Keep Your Marbles?



There are many foods, nutrients, and supplements that have been touted to improve various aspects of brain health. Omega-3 fatty acids, in food and supplement form in particular, have been proclaimed as nutrients that can boost cognition in seniors.

In this month's E-News Exclusive, Today's Dietitian (TD) examines the latest evidence to determine whether omega-3s actually can enhance cognitive health in older adults.

After reading the article, visit TD's website at www.TodaysDietitian.com to read the digital edition of the June/July issue, which includes articles on postbiotics, social determinants of health, obesity, pancreatitis, and solutions for food waste, climate change, and hunger.

Don't forget to check out RDLounge.com where you can read and comment on blogs written by RDs for RDs. We're welcoming new guest bloggers, so if you're interested in writing, please contact me at the e-mail listed below.

Please enjoy the E-Newsletter and give us your feedback at TDeditor@gvpub.com, and don't forget to like us on Facebook and follow us on Twitter.

— Judith Riddle, editor


Omega-3 Fats and Cognitive Health


By Carrie Dennett, MPH, RDN, CD

As clients and patients age, concerns about developing chronic health conditions such as type 2 diabetes, heart disease, and cancer increase. But so does the desire to remain mentally sharp. Interest in preventing or delaying Alzheimer's disease, dementia, and other forms of cognitive decline is strong, giving rise to several brain health claims associated with certain foods, nutrients, and supplements.

For example, many older adults take omega-3 fatty acids in supplement form to help prevent age-related cognitive decline. But does the research match the hype? It's well documented that omega-3s—especially DHA and EPA, the types found in fish and seafood—are critical for prenatal and early childhood brain development, in part because the brain contains a high level of omega-3s. But what might this mean for adult brains?

Much of the focus on omega-3s and adult health has centered on heart health, and what's good for the heart may be good for the brain—after all, stroke is one type of CVD. But research on omega-3s and cognitive health is less robust. A 2020 study that drew data from the 2011–2014 National Health and Nutrition Examination Survey found that omega-3 intake might be inversely associated with low cognitive performance in adults older than age 60. The authors say this is biologically plausible, but the findings must be confirmed by long-term prospective studies.1

A 2020 World Health Organization–funded systematic review and meta-analysis examined 38 randomized controlled trials that compared higher vs lower intake of omega-3 fatty acids from supplements or foods, as well as studies that simply advised the intervention group to alter their intake. The included studies were published between 1978 and 2018, with an average duration of 21 months. The shortest trials included were 24 weeks in length, because other research suggests this is the minimum duration of supplementation needed to balance levels of omega-3s in the brain.2

Full story »





Special on CEU Self-study Courses



Today's Dietitian has an extensive library of self-study courses covering a wide variety of topics in dietetics and nutrition. To help you meet your CEU requirement, through Friday, June 26, 2020: Buy 1 self-study course and receive 1 self-study course for 50% off!* Use the code:

STUDY50

at checkout. View courses »



* Offer valid through Friday, June 26, 2020, at 11:59 PM EDT. Offer cannot be combined with any other promotion. The CE Club discount will be applied to all applicable products. Offer not valid for Lifetime subscribers.





Upcoming Live Webinars

Rethinking Restrictive Diets: Helping Clients with Food Sensitivities Navigate a More Varied Diet for Improved Success

Join

Erin Palinski-Wade, RD, CDE, CPT,

on

Wednesday, June 24, 2020, from 2–3 PM EDT,

as she discusses how following a varied diet can improve overall nutrition status and compliance, and allow individuals with food sensitivities a more varied menu while still feeling their best.

Sponsored and accredited by The a2 Milk Company. Register Now

»

Food and Fitness After Cancer

Join

Shayna Komar, RD, LD,

and

Joel Hardwick, ACSM/EP-CET, EIM2,

on

Thursday, June 25, 2020, from 2–3 PM EDT,

for a webinar that will address how food and fitness impact the cancer survivor. Shayna and Joel will discuss how to create a healthful plan post treatment and educate dietitians on how to team up with their local exercise experts to help patients manage posttreatment side effects.

Register Now

»

Complimentary Recorded Webinars

Power Snacking: Increase Overall Nutrition with Blueberries Presented by Mary Ellen Phipps, MPH, RDN, LD, and Leslie Wada, PhD, RD Sponsored by US Highbush Blueberry Council

.

Register Now

»

Nuances to Applying the Low FODMAP Diet Presented by Kate Scarlata, MPH, RDN, LDN Sponsored by Monash University. Register Now

»

Low, Sustained, and Slow: A Smart Strategy for Choosing Quality Carbs Presented by Mindy Hermann, MBA, RDN Sponsored by BENEO-Institute. Register Now

»

Sleep, Stress, and Nutrient Gaps Presented by Christopher Mohr, PhD, RD Sponsored by Nature Made. Register Now

»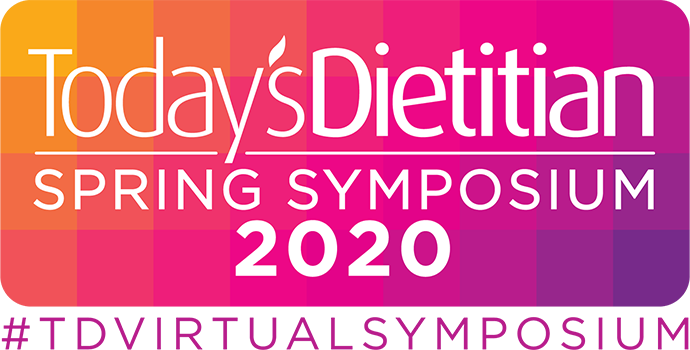 2020 Spring Symposium Recorded Sessions



Looking for additional credits? Recorded sessions from Today's Dietitian 2020 Spring Symposium are now available. Earn up to 22 CEUs for just $499. Learn more »



2021 Spring Symposium — Denver, Colorado

For those who were unable to join us this year or for those planning their 2021 CPEU program, join us next year for our 2021 Symposium at the

Hyatt Regency Denver

in

Denver, Colorado, May 16–19, 2021!

Interested in participating as a speaker in Denver in 2021?

Click

here

to submit your abstract!


Have a product or service you want to market to dietitians and nutrition professionals or an open position that you need to fill quickly? Today's Dietitian offers many flexible advertising programs designed to maximize your results. From print advertising to E-Newsletter sponsorships, website advertising to direct mail opportunities, Today's Dietitian helps achieve your goals. Email our experienced account executives today for more information or call 800-278-4400!

Coming up in our August/September issue is our Conference Showcase. Email a sales representative to be part of this unique advertising opportunity.

AlliedHealthCareers.com is the premier online resource to recruit nutrition professionals. Post your open positions, view résumés, and showcase your facility's offerings all at AlliedHealthCareers.com!


Have a dietetics-related question that you'd like our expert Toby Amidor, MS, RD, CDN, FAND, to answer? Email TDeditor@gvpub.com or send a tweet to @tobyamidor, and we may feature your query!




Do Warning Labels Help People Choose More Healthful Drinks?



Warning labels on sugary drinks may lead to more healthful drink choices, according to a new analysis of more than 20 studies examining these warnings. The findings could help inform policymakers, who are increasingly interested in implementing policies requiring warning labels for sugar-sweetened beverages such as soda, sports drinks, or fruit-flavored drinks.

"Our findings suggest that sugary drink warnings help consumers better understand products' healthfulness and encourage consumers to make healthier choices about what drinks to buy," says research team leader Anna H. Grummon, PhD, a David E. Bell Postdoctoral Fellow at Harvard T.H. Chan School of Public Health. "These results highlight the potential usefulness of sugary drink warning policies in both informing consumers and reducing consumption of unhealthful beverages like sodas, energy drinks, and fruit-flavored drinks."

Grummon presented the research as part of NUTRITION 2020 LIVE ONLINE, a virtual conference hosted by the American Society for Nutrition.

"As policymakers' interest in this policy has grown, so too has research on sugary drink warnings," says the study's coauthor Marissa G. Hall, PhD, an assistant professor at the University of North Carolina in Chapel Hill. "However, skeptics worry that warnings won't be effective at informing consumers or encouraging healthier choices, and no research had synthesized existing evidence on sugary drink warnings to address these questions."

Read more »


Promoting Better Sleep


Joanna Foley, RD, CLT

If your clients or patients have complained about not getting enough sleep, know they're not alone. It's estimated that about 68% of Americans struggle with obtaining quality sleep at least once per week, and about 1 in 3 American adults don't get enough sleep on a regular basis.

What's causing this? And why does it matter so much? In this blog, you'll learn how to educate your clients about the basic recommendations for sleep, the negative consequences of not getting enough, practices to help improve sleep hygiene, and the best foods and supplements you can recommend to help support better sleep.

Read more »


New NIH Research Goals Focus on Precision Medicine


Over the next 10 years, the NIH (National Institutes of Health) plan to answer four key questions about nutrition and human health, with a focus on precision medicine, Healio reports.



Some Quarantine Eating Habits Healthful


In Prevention, an RD argues that some consumer eating habits should continue after quarantine, citing behaviors such as cooking at home more, eating more plants and less meat, and consuming larger breakfasts.


In the August/Spetember Issue



Obesity's Link to Genetics and the Environment

Keeping Pounds Off in Diabetes Management

Tips for Finding Your First Dietetics Job

Food Security During COVID-19


Virtual Fitness Challenge Creator


My Virtual Mission's Race Host is a platform through which individuals or organizations can host virtual fitness challenges to engage audiences. The host sets entry fees and specifications. Challenge participants can view and share stats from their own workouts as well as those of other participants. Stats can be linked with apps and activity trackers such as Apple Health, Fitbit, Google Fit, and others. Learn more »



Planners for Meals, Workouts, and More


The Happy Planner offers users specially tailored fitness and wellness goals, as well as dry erase boards, paper pads, stickers, pouches, companion journals and books, sticky notes, and extension packs. Consumers can use these tools to plan meals, track their moods, and record workouts and food intake. Learn more »




A Secure, Anonymous Résumé Bank
Job Alerts Sent to Your E-mail


From messenger bags and tote bags to apparel and journals, the Today's Dietitian gift shop has the perfect gift for long-time professionals, recent grads, or even the RD-to-be. Check out our secure online shop today or call toll-free 877-809-1659 for easy and fast ordering.