Thinking About Becoming a Preceptor?



If you've ever desired to become a preceptor, know that it's a noble calling. You'd have a hand in prepping the next generation of nutrition professionals in all areas of dietetics.

In this month's E-News Exclusive, Today's Dietitian (TD) explores the rewards of being a preceptor and offers tips on how to get organized and overcome the challenges of serving in this important role.

After reading the article, visit TD's website at www.TodaysDietitian.com to read the digital edition of the June/July issue, which includes articles on postbiotics, social determinants of health, obesity, pancreatitis, and solutions for food waste, climate change, and hunger.

Don't forget to check out RDLounge.com where you can read and comment on blogs written by RDs for RDs. We're welcoming new guest bloggers, so if you're interested in writing, please contact me at the e-mail listed below.

Please enjoy the E-Newsletter and give us your feedback at TDeditor@gvpub.com, and don't forget to like us on Facebook and follow us on Twitter.

— Judith Riddle, editor


Tips for a First-Time Preceptor


By Matt Knight, RDN, LDN

Have you ever thought about becoming a preceptor to help educate the next generation of dietitians?

A preceptor is a skilled expert who offers instruction, training, and supervision to students. Dietitians who act as preceptors assist dietetics interns in the development of professional skills by providing access to practical clinical experience. Indeed, preceptors play an essential role in training future dietetics colleagues. All RDs are eligible to fulfill this role.

It's rewarding for an RD to give back and support the profession. However, playing the role of preceptor comes with its share of challenges. Teaching and mentoring a dietetics intern involves a significant time commitment. RDs must remember to account for this time and continue to manage day-to-day responsibilities. Good organization and time management skills are a must.

It's well worth the effort, however, as becoming a preceptor is an experience unlike any other. This article will help you get started.

The Preliminaries
The following are some tips to help you prepare to successfully work with dietetics interns.

Start early and get organized. Well before your first intern arrives, think about what they will need to know to work with you. The following are some questions to consider:
Do you need to work with your information technology department to obtain an extra computer as well as software or system access?
Where will interns park?
Should they bring meals each day or can they easily purchase food nearby?

Full story »





Looking to beat the recertification deadline?



Today's Dietitian has an extensive library of self-study courses and webinars covering a wide variety of topics in dietetics and nutrition. To help you meet your CEU recertification requirement, throughout the month of July you will receive 15% off the price of all self-study courses and live or recorded webinars!* Use the code

JULY15

at checkout. View courses »



* Coupon expires on July 31, 2020, at 11:59 PM EDT. The discount is applied to already-reduced pricing for CE Club Members and is not applicable to Lifetime Subscribers. Coupon cannot be combined with any other available offers.





Upcoming Live Webinars

Work-Life Balance: Personal and Professional Satisfaction for Practitioners Thursday, July 30, 2020, 2–3:30 PM EDT Presented by Sohailla Digsby, RDN, LD 1.5 CEUs

|

Register Now

»

Maximizing Performance with a Plant-Based, Dairy-Enhanced Approach Wednesday, August 5, 2020, 2–3 PM EDT Presented by Marie Spano, MS, RD, CSCS, CSSD 1 CEU FREE

| Sponsored and accredited by

National Dairy Council

|

Register Now

»

Why RDs Need to Be Trash Talking Thursday, August 13, 2020, 2–3 PM EDT Presented by Dr. Joan Salge Blake, EdD, MS, RDN, LDN, FAND 1 CEU

|

Register Now

»

Get it Right from the First Bite: How to Incorporate Baby-Led Weaning in Your Pediatric Nutrition Practice Wednesday, August 19, 2020, 2–3 PM EDT Presented by Katie Ferraro, MPH, RDN, CDE 1 CEU

|

Register Now

»

A Dangerous Combination: Fad Dieting and Social Media Thursday, August 27, 2020, 2–3 PM EDT Presented by Emily Presbrey, MS, RD, LDN 1 CEU

|

Register Now

»

Discovering Adaptogens:
Stress-Reducing Herbs Wednesday, September 2, 2020, 2–3 PM EDT Presented by Vicki Shanta Retelny, RDN 1 CEU

|

Register Now

»

New Recorded Webinars

Food and Fitness After Cancer Presented by Shayna Komar, RD, LD, and Joel Hardwick, ACSM, EP-CET, EIM2 1 CEU

|

Register Now

»

Rethinking Restrictive Diets: Helping Clients with Food Sensitivities Navigate a More Varied Diet for Improved Success Presented by Erin Palinski-Wade, RD, CDE, CPT 1 CEU FREE

| Sponsored and accredited by

The a2 Milk Company

|

Register Now

»

Sustainable Diets: How Regenerative Agriculture and Nutrient-Dense Foods Can Help Support Human and Planetary Health Presented by Kevin Miller, PhD, and Jim Eckberg, PhD 1 CEU FREE

| Sponsored and accredited by

General Mills' Bell Institute of Health and Nutrition

|

Register Now

»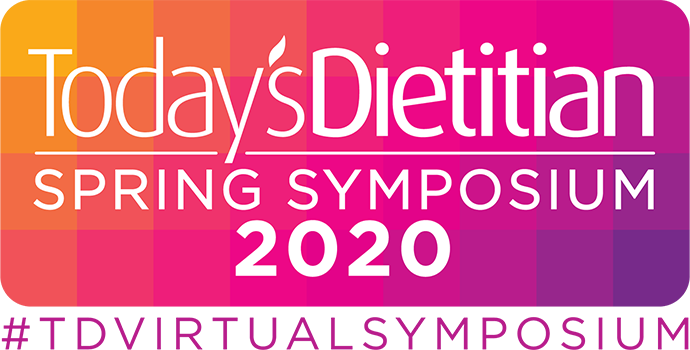 2020 Spring Symposium Recorded Sessions



Looking for additional credits? Recorded sessions from Today's Dietitian 2020 Spring Symposium are now available. Earn more than 20 CEUs for just $499. Learn more »



2021 Spring Symposium — Denver, Colorado

For those who were unable to join us this year or for those planning their 2021 CPEU program, join us next year for our 2021 Symposium at the

Hyatt Regency Denver

in

Denver, Colorado, May 16–19, 2021!


Have a product or service you want to market to dietitians and nutrition professionals or an open position that you need to fill quickly? Today's Dietitian offers many flexible advertising programs designed to maximize your results. From print advertising to E-Newsletter sponsorships, website advertising to direct mail opportunities, Today's Dietitian helps achieve your goals. Email our experienced account executives today for more information or call 800-278-4400!

Coming up in our August/September issue is our Conference Showcase. Email a sales representative to be part of this unique advertising opportunity.

AlliedHealthCareers.com is the premier online resource to recruit nutrition professionals. Post your open positions, view résumés, and showcase your facility's offerings all at AlliedHealthCareers.com!


From messenger bags and tote bags to apparel and journals, the Today's Dietitian gift shop has the perfect gift for long-time professionals, recent grads, or even the RD-to-be. Check out our secure online shop today or call toll-free 877-809-1659 for easy and fast ordering.




Exercise May Maintain Men's Blood Vessel Health After Sugary Drink Consumption



A new study published in the American Journal of Physiology-Regulatory, Integrative and Comparative Physiology finds that regular exercise can offset the blood vessel impairment that occurs after drinking sugary soft drinks.

Previous studies have found that drinking a single sugar-sweetened soft drink can interfere with blood vessel dilation, leading to endothelial dysfunction. Research also has shown that aerobic exercise performed the day before drinking a sugary drink can prevent a decline in endothelial function. However, whether exercise can exert longer-lasting benefits with the consumption of larger amounts of sugar is less clear.

In a new study, healthy young men with an average age of 22 drank three sugar-sweetened beverages daily for seven days. Each beverage contained roughly the amount of sugar consumed when drinking a 20- to 25-oz soda. One-half of the subjects also participated in 45-minute moderate-intensity cycling sessions five days per week. Before and after the trial period, the research team measured the participants' blood sugar levels, blood pressure, and endothelial function in the upper arm.

Blood sugar levels and blood pressure didn't change in either the exercise or nonexercise groups. Blood vessel dilation was reduced—signifying endothelial dysfunction—in the nonexercisers after the week-long trial, but it was increased in the men who exercised.

Read more »


Rethinking the Glycemic Index


Constance Brown-Riggs, MSEd, RD, CDE, CDN

I get questions all the time from my patients about the glycemic index (GI), especially from those working with me to achieve weight loss and manage their diabetes. This tool has been around for more than 40 years and remains controversial. I don't believe it's useful for helping my patients plan meals that meet their individual needs, and I think it actually can cause confusion about carbohydrates.

If you're reading this and nodding your head, we're not alone. According to a new survey of more than 750 Today's Dietitian readers, sponsored by Potatoes USA, 73% of nutrition professionals who responded don't use the GI when counseling clients and patients, and among those who did report using it, 70% don't use it often.

Here are three things to keep in mind when addressing questions you may receive about the GI from your clients and patients.

Read more »


Princeton Establishes Summer Program to Fight Food Insecurity


Princeton University is undertaking a six-week Summer Food and Nutrition Program to distribute 9,500 meals per week to local community members suffering from pandemic-related food insecurity, as well as to ensure continuity of employment for its foodservice staff.



Food Is Medicine: Integrating Food and Nutrition Into Health Care


Nutrition, public health, and policy experts from top universities review and discuss novel ways to incorporate nutrition and lifestyle medicine into the traditional health care system as part of The BMJ's Food for Thought 2020 collection.


In the August/September Issue



Landing Your First Dietetics Job

Lifestyle Changes That Keep Pounds Off

Diversifying Dietetics

Food Insecurity During COVID-19

Obesity's Link to Genetics and the Environment

Familial Hypercholesterolemia


Yoga and Meditation Streaming Service


Inner Dimension is a new streaming service for yoga classes, meditation sessions, and personal growth content. The service includes unlimited streaming of power yoga, yin yoga, yoga for beginners, prenatal yoga, breathing practices, meditation videos, and inspirational talks. Inner Dimension also offers an app for iOS for practice on the go. Learn more »



Well-Being Platform for Employees


HealthKick is a centralized platform wherein employers can offer fitness, nutrition, mental health, and financial services to their employees by providing access to wellness brands and services such as Orangetheory Fitness, YogaWorks, and Peloton. Employers can choose which services they'd like to offer their employees. Learn more »




A Secure, Anonymous Résumé Bank
Job Alerts Sent to Your E-mail


Have a dietetics-related question that you'd like our expert Toby Amidor, MS, RD, CDN, FAND, to answer? Email TDeditor@gvpub.com or send a tweet to @tobyamidor, and we may feature your query!