Prediabetes Treatment



A diagnosis of prediabetes often spells doom and gloom for many clients who fear that type 2 diabetes is right around the corner. But dietitians can assure them this isn't the case, as there are treatments as well as dietary and lifestyle changes they can make that can stop disease progression in its tracks.

In this month's E-News Exclusive, Today's Dietitian (TD) examines the variety of treatments available for prediabetes and the dietary patterns research shows can stabilize blood glucose and possibly reverse the course of the disease.

After reading the article, visit TD's website at www.TodaysDietitian.com to read the digital edition of the August/September issue, which includes articles on landing your first dietetics job, successful strategies to keep weight off in patients with and without diabetes, obesity's link to genetics and the environment, diagnosis and treatment strategies for familial hypercholesterolemia, and ways to combat food insecurity during the COVID-19 pandemic.

Don't forget to check out RDLounge.com where you can read and comment on blogs written by RDs for RDs. We're welcoming new guest bloggers, so if you're interested in writing, please contact me at the email listed below.

Please enjoy the E-Newsletter and give us your feedback at TDeditor@gvpub.com, and don't forget to like us on Facebook and follow us on Twitter.

— Judith Riddle, editor




Is Medication Appropriate for Prediabetes?


By Lisa Andrews, MEd, RD, LD

We've all likely encountered a family member, friend, or client who's been diagnosed with prediabetes, a condition that increases the risk of type 2 diabetes and vascular complications, including heart disease.

According to the American Diabetes Association (ADA), roughly 10% of people with prediabetes progress to type 2 diabetes every year.1 Feelings of fear, shame, and guilt can be common. Patients often think it's their fault, and the thought of taking medication can make them feel like a failure. But is medication necessary in prediabetes treatment?

Full story »






Summer Flash Sale!



Get the upcoming three live webinars for $50* now through 8/26.
Use the code

FLASH3

at checkout.

A Dangerous Combination: Fad Dieting and Social Media
Thursday, August 27, 2020, 2–3 PM EDT
Presented by Emily Presbrey, MS, RD, LDN
1 CEU | Register Now »

Discovering Adaptogens: Stress-Reducing Herbs
Wednesday, September 2, 2020, 2–3 PM EDT
Presented by Vicki Shanta Retelny, RDN
1 CEU | Register Now »

Ethics of Practice (Earn 1 Ethics Credit)
Thursday, September 17, 2020, 2–3 PM EDT
Presented by Mindy Nelkin, D. Bioethics, RD, HEC-C
1 CEU | Register Now »



* Discount will be applied to the already-reduced rate for CE Club Members. Offer not valid for Lifetime Subscribers. Cannot be combined with any other offer. Expires at 11:59 PM EDT on 8/26.





Upcoming Live Webinar

Insulin Delivery Devices Today and Beyond: What RDs Need to Know Wednesday, October 7, 2020, 2–3 PM EDT Presented by Hope Warshaw, MMSc, RD, CDE, BC-ADM 1 CEU

|

Register Now

»

New Recorded Webinars

Why RDs Need to Be Trash Talking Presented by Dr. Joan Salge Blake, EdD, MS, RDN, LDN, FAND 1 CEU

|

Access the Recording

»

Maximizing Performance with a Plant-Based, Dairy-Enhanced Approach Presented by Marie Spano, MS, RD, CSCS, CSSD 1 CEU FREE

| Sponsored and accredited by

National Dairy Council

|

Access the Recording

»

Work-Life Balance: Personal and Professional Satisfaction for Practitioners Presented by Sohailla Digsby, RDN, LD 1.5 CEUs

|

Access the Recording

»

Sustainable Food Systems Master Class: Faculty Roundtable Presented by Sherene Chou, MS, RD, Kate Geagan, MS, RD, Sharon Palmer, MSFS, RDN, and Chris Vogliano, MS, RD 1 CEU FREE

| Sponsored by

Danone

,

Clif Bar & Company

, and

Barilla

|

Access the Recording

»

Food and Fitness After Cancer Presented by Shayna Komar, RD, LD, and Joel Hardwick, ACSM, EP-CET, EIM2 1 CEU

|

Access the Recording

»

Rethinking Restrictive Diets: Helping Clients With Food Sensitivities Navigate a More Varied Diet for Improved Success Presented by Erin Palinski-Wade, RD, CDE, CPT 1 CEU FREE

| Sponsored and accredited by

The a2 Milk Company

|

Access the Recording

»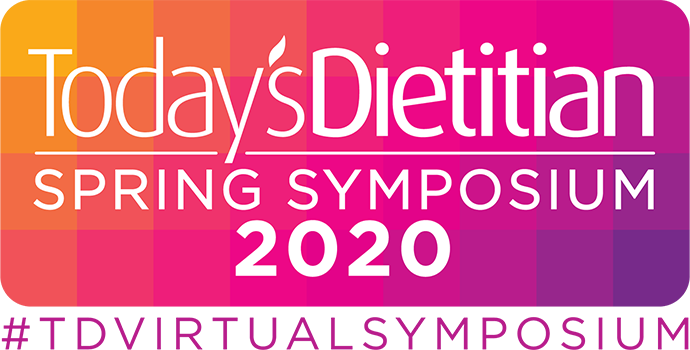 2020 Spring Symposium Recorded Sessions



Looking for additional credits? Recorded sessions from Today's Dietitian 2020 Spring Symposium are now available. Earn more than 20 CEUs for just $499. Learn more »



2021 Spring Symposium — Denver, Colorado

For those who were unable to join us this year or for those planning their 2021 CPEU program, join us next year for our 2021 Symposium at the

Hyatt Regency Denver

in

Denver, Colorado, May 16–19, 2021!


Have a product or service you want to market to dietitians and nutrition professionals or an open position that you need to fill quickly? Today's Dietitian offers many flexible advertising programs designed to maximize your results. From print advertising to E-Newsletter sponsorships, website advertising to direct mail opportunities, Today's Dietitian helps achieve your goals. Email our experienced account executives today for more information or call 800-278-4400!

Coming up in our October issue is our Fall Showcase. Email a sales representative to be part of this unique advertising opportunity.

AlliedHealthCareers.com is the premier online resource to recruit nutrition professionals. Post your open positions, view résumés, and showcase your facility's offerings all at AlliedHealthCareers.com!


From messenger bags and tote bags to apparel and journals, the Today's Dietitian gift shop has the perfect gift for long-time professionals, recent grads, or even the RD-to-be. Check out our secure online shop today or call toll-free 877-809-1659 for easy and fast ordering.


Have a dietetics-related question that you'd like our expert Toby Amidor, MS, RD, CDN, FAND, to answer? Email TDeditor@gvpub.com or send a tweet to @tobyamidor, and we may feature your query!




Study Pinpoints Top Sources of Empty Calories for Children, Teens



A new study of children and teens found that more than 25% of the calories they consume were considered empty—those from added sugars and solid fats. The top sources of these empty calories were soft drinks, fruit drinks, cookies and brownies, pizza, and ice cream.

"Our findings suggest a need for continued research into what children and adolescents are eating," says Edwina Wambogo, PhD, who recently was a postdoctoral Cancer Research Training Award Fellow with the National Cancer Institute. "Examining the whole landscape of available foods and beverages for children and adolescents can help inform new ways to promote healthier eating."

Wambogo, the primary investigator for the study, presented the research as part of NUTRITION 2020 LIVE ONLINE, a virtual conference recently hosted by the American Society for Nutrition.

The researchers used data from the 2007–2008 through 2015–2016 National Health and Nutrition Examination Survey to analyze diet trends for children and adolescents aged 2 to 18.

"Over the time period studied, we observed a downward trend in the percent of calories coming from empty calories without any associated decrease in total calorie intake," Wambogo says. "This trend was mostly driven by declines in added sugars intake, including those from soft drinks and fruit drinks."

Read more »


Build Kids' Love of Food via Gardening


Allison Lansman, RD

Our connection with food changes over our lifetime. But creating a healthful connection is a journey that should begin in childhood.

Building a positive, healthy relationship with food is an innate process for kids; children are well attuned to their body's hunger cues. But as they age, outside pressures and societal norms can affect this natural instinct.

RDs can help parents and caregivers foster their children's love of food, which is something they can maintain over a lifetime.

Read more »


Chefs, RDs Provide Lunch Tips for Virtual Learning


Kentucky's Courier Journal interviews chefs and RDs in Louisville, who share tips for parents and caregivers who will be preparing their children's lunches at home this school year.



Reducing Disparities in Communicable and Noncommunicable Diseases


In an editorial in The New England Journal of Medicine, health experts connect racial and socioeconomic disparities in obesity and nutrition with those of death and infection from COVID-19, while calling for public health policies to stem the tide of these inequities.


In the October Issue



Ethics in the Plant-Based Food Movement

Improving School Wellness

Meeting Weekly Seafood Recommendations

Probiotics and Immune Health

Telehealth in Private Practice

Cannabis and CBD Edibles



Virtual Community-Based Fitness Coaching Tool


PEAR Connect is a new virtual tool from PEAR Sports that enables fitness establishment owners and instructors to upload their own content, including classes, exercise routines, and more, to a platform. Members of that establishment can view the content anytime on any device. Fitness operators also can create workout programs in PEAR Connect for clients using snippets of movements that can be woven together. Learn more »



Stability and Core Training Disc


Flex Disc is a fitness device utilizing a rolling platform that users can employ for a variety of exercises to improve strength, stability, mobility, and balance. Various training tools can be attached to the Flex Disc, including resistance bands, cables, and springs. Flex Disc offers a lower-impact workout and is suitable for both stationary and dynamic exercises. Learn more »



A Secure, Anonymous Résumé Bank
Job Alerts Sent to Your E-mail