Dulled Taste Sensitivity May Increase Calorie Consumption



Cornell University food scientists have found that people with a diminished ability to taste food choose sweeter—and likely higher-calorie—fare. This could put people on the path to gaining weight.

"We found that the more people lost sensitivity to sweetness, the more sugar they wanted in their foods," according to lead author Robin Dando, PhD, an assistant professor of food science at Cornell, whose research has been published online by the journal Appetite.

Nutritionists, researchers, and doctors have long suspected a connection between diminished taste sensitivity and obesity, but no one had tested whether losing taste altered intake. In his research, Dando temporarily dulled the taste buds of study participants and had them sample foods of varying sugar concentrations.

Read more »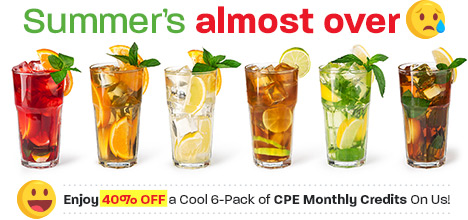 Do you have a stack of Today's Dietitian CPE Monthly course exams from the magazine sitting at your desk, and you're just waiting to go online and complete them for credit? Well, here is the perfect reason to start!

Between now and August 31, when you purchase any 6 CPE Monthly courses, we'll give you 40% off your order total! Use coupon code 

CPE6PACK

 at checkout. Please note: All 6 courses must be in your shopping cart in order to apply the coupon code and receive the discount.

Visit CE.TodaysDietitian.com/CPEMonthly for a full listing of CPE Monthly courses available for credit. Then, choose six for your cart and checkout using the code above. Offer expires on August 31, 2017, at 11:59 PM EDT.




Upcoming Live Webinar



Veganism, Plant-Based Diets, and Eating Disorders
Can you be both vegan and working on recovering from an Eating Disorder? This presentation by Alexandra Caspero, MA, RD, CLT, RYT, on Wednesday, August 23, at 2 PM EDT, will explore the relationship between plant-based diets, orthorexia and anorexia. While many clients will do better on an omnivore diet, it is possible to counsel clients who wish to remain vegan and work on their recovery. This webinar will touch on various diets of restriction and how they overlap with eating disorder recovery as well as provide tools for dietitians working with these special populations. Register Now »




Recorded Webinar Series—Stress Solutions for Today's Dietitian


Presented by Dr. Jo® Lichten, PhD, RDN

Purchase both Part 1 and Part 2 for only $29.99! Use coupon code 

STRESSX2

 at checkout. Please note: this discount applies only to non-CE Club Members.

Purchase Dr. Jo®'s Reboot Book + 12 CEU Exam for $99.00 and get both Part 1 and Part 2 of this recorded webinar series for FREE and earn 14 CEUs! Use coupon code 

STRESSFREEWEBS

 at checkout.


Have a product or service you want to market to dietitians and nutrition professionals or an open position that you need to fill quickly? Today's Dietitian offers many flexible advertising programs designed to maximize your results. From print advertising to E-Newsletter sponsorships, website advertising to direct mail opportunities, Today's Dietitian helps achieve your goals. Email our experienced account executives today for more information or call 800-278-4400!

Coming up in our September issue is our National Conference Showcase. Email a sales representative to be part of this unique advertising opportunity.

AlliedHealthCareers.com is the premier online resource to recruit nutrition professionals. Post your open positions, view résumés, and showcase your facility's offerings all at AlliedHealthCareers.com!


In the September Issue



The Best of Chicago Dining

Diet vs Statins

Culinary Uses of Aquafaba

Alkaline and Plant Waters

Food Fears

Hair Growth Supplements


Catalog for Food Sensitivities on the Go


The Food Intolerances app (www.baliza.de/en/apps/histamine.html), available for iOS and Android, provides a catalog of foods, food additives, and drugs and the substances in them to which users may be sensitive. The app lists how much of each substance is present in a food or drug, with substances including fructose, sorbitol, lactose, salicylate, and gluten. Learn more »



Music Tailored to Working Out


The Fit Radio app (www.fitradio.com), available free for iOS and Android, is a music streaming app that provides users with playlists for their workouts. Disc jockey-created mixes maintain a consistent beat for whatever activity the user is engaging in. Users can choose playlists by genre, disc jockey, or type of workout, such as Spinning, yoga, Zumba, or running. Learn more »


Have a dietetics-related question that you'd like our expert Toby Amidor, MS, RD, CDN, to answer? Email TDeditor@gvpub.com or send a tweet to @tobyamidor, and we may feature your query!



A Secure, Anonymous Résumé Bank
Job Alerts Sent to Your E-mail


From messenger bags and tote bags to apparel and journals, the Today's Dietitian gift shop has the perfect gift for long-time professionals, recent grads, or even the RD-to-be. Check out our secure online shop today or call toll-free 877-809-1659 for easy and fast ordering.