Learn about flax's nutritional content and potential to help prevent and manage various medical conditions in this month's issue of Today's Dietitian. Read the CPE Monthly article, take the 10-question online test at CE.TodaysDietitian.com, and earn two CPEUs!
Upcoming Live Webinars
Brought to you through the support of

Overview of the Nutritional and Health Attributes of Soy
Presented by Mark Messina, PhD
Wednesday, August 24, 2016, 2-3 pm ET
1 CEU

This 1 CEU webinar will discuss the proposed health benefits of soyfoods and will address topics such as the effects of soy on male hormone status, the impact of soy on breast cancer prognosis and the effect of soy on mineral absorption and status. Emphasis will be placed on the clinical and prospective epidemiologic data.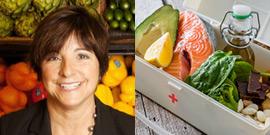 Brought to you through the support of

Dietary Targeting of Inflammation: Modification of Cancer Risk
Cynthia Thomson, PhD, RD, FAND, FTOS
Wednesday, August 31, 2016, 2-3:30 pm ET
1.5 CEUs

This 1.5 CEU webinar will examine the relationship between inflammation and cancer, as well as foods and dietary patterns that have been shown to impact the inflammatory response. Attendees will come away with the recognition that RDs can play an important role in positively impacting the health of patients and clients at risk for cancer by encouraging dietary interventions that reduce inflammation.




Recorded Webinar



Milk Protein and Human Health: A1 versus A2 Beta-Casein
Presented by Dr. Joanna McMillian and Professor Karen Dwyer, this complimentary 1-credit webinar discusses a growing body of research supporting the notion that some people digest milk proteins differently, and that for these people, A1 beta-casein may be the cause of postdairy digestive discomfort.




2017 Spring Symposium



We want you to join us next May 21-24 at the Astor Crowne Plaza in the heart of New Orleans' French Quarter. In addition to delivering top-quality continuing education sessions led by engaging presenters, and networking opportunities like no other event, our 2017 event's prime location will put you steps away from all of the culinary, cultural, and entertainment experiences of The Big Easy.




Have a product or service you want to market to dietitians and nutrition professionals or an open position that you need to fill quickly? Today's Dietitian offers many flexible advertising programs designed to maximize your results. From print advertising to e-Newsletter sponsorships, website advertising to direct mail opportunities, Today's Dietitian helps achieve your goals. Email our experienced account executives today for more information or call 800-278-4400!

Coming up in our September issue is our Conference Showcase. Email a sales representative to be part of this unique advertising opportunity.

AlliedHealthCareers.com is the premier online resource to recruit nutrition professionals. Post your open positions, view résumés, and showcase your facility's offerings all at AlliedHealthCareers.com!


Finding Healthful Lifestyles Near You


The Healthy Places app (healthyplacesapp.com), free to download for iOS and through Google Play, locates healthful dining, grocery stores, farmers' markets, health stores, fitness and wellness centers, yoga studios, health-based events, and more near the user's location. The user can input certain preferences (eg, organic, local, gluten-free, vegan) for the app to search for. The app also generates coupons and loyalty rewards. Learn more »



Music and Motivation for Working Out


The Motion Traxx app (www.motiontraxx.com), available free for iOS and Android, offers guided cardio workouts from professional fitness trainers. The app's music is designed to match the intensity of a user's workout and motivate further. Users can choose high-intensity interval training workouts for the treadmill, indoor bike, elliptical, rower, stairclimber, and more. Learn more »


Defining Moderation May Vary by Individual



Though eating in moderation might be considered practical advice for healthful nutrition, a new University of Georgia study suggests the term's wide range of interpretations may make it an ineffective guide for losing or maintaining weight.

The more people like a food, the more forgiving their definitions of moderation are, says the study's lead author Michelle vanDellen, PhD, an assistant professor in the Franklin College of Arts and Sciences department of psychology.

"Moderation is a relative term," she says. "When people talk about eating in moderation, it doesn't allow them a clear, concrete way to guide their behavior. For both thin and overweight people, people tend to think of moderation through their own objective lens, and they tend to exaggerate what moderation is."

Read more »


From messenger bags and tote bags to apparel and journals, the Today's Dietitian gift shop has the perfect gift for long-time professionals, recent grads, or even the RD-to-be. Check out our secure online shop today or call toll-free 877-809-1659 for easy and fast ordering.


Have a dietetics-related question that you'd like our expert Toby Amidor, MS, RD, CDN, to answer? E-mail TDeditor@gvpub.com or send a tweet to @tobyamidor, and we may feature your query!