In the November issue



Solutions for the diabesity epidemic

Strategies to reduce sodium
and keep the flavor

Coaching for weight loss

Healthful holiday recipes for renal patients

Older clients and eating disorders



Managing IBD


GI Buddy by Crohn's & Colitis Foundation of America is designed to help clients and patients easily and conveniently track important aspects of their inflammatory bowel disease and create comprehensive views of their health to share with their health care team. They can log symptoms, stay on top of treatment, record what they eat, and monitor their overall well-being. Learn more »



Scoring Food for Type 2 Diabetes Management


Thrive365 is a patented food-scoring system designed for people with non–insulin-dependent type 2 diabetes. The program helps users balance food consumption to align with nutritional guidelines without the complexity of calculating carb requirements on a meal-to-meal basis. It also can log blood glucose data and track physical activity. Plus it includes a restaurant finder that has restaurants and their Thrive365 scored menu items. Learn more »



Have a dietetics-related question
that you'd like our expert, Toby Amidor,
MS, RD, CDN, to answer? E-mail
TDeditor@gvpub.com or send a tweet to
@tobyamidor, and we may feature your query!



From messenger bags and tote bags to apparel and journals, the Today's Dietitian gift shop has the perfect gift for long time professionals, recent grads, or even the RD to be. Check out our secure online shop today or call toll-free 877-809-1659 for easy and fast ordering.



Have a product or service you want to market to dietitians and nutrition professionals or an open position that you need to fill quickly? Today's Dietitian offers many flexible advertising programs designed to maximize your results. From print advertising to e-newsletter sponsorships, website advertising to direct mail opportunities, Today's Dietitian helps achieve your goals. E-mail our experienced account executives today for more information or call 800-278-4400!

AlliedHealthCareers.com is the premier online resource to recruit nutrition professionals. Post your open positions, view résumés and showcase your facility's offerings all at AlliedHealthCareers.com!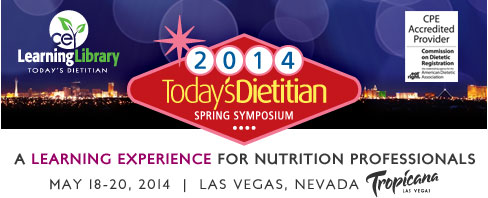 It's the beginning of a new springtime tradition for registered dietitians and others working in the field of nutrition and dietetics.

And we want YOU to be part of it.


The 2014 Today's Dietitian Spring Symposium will feature a diverse and appealing continuing education program, with an engaging keynote speaker, networking events, top-shelf catering, and comfortable accommodations at the newly renovated, Hilton Doubletree-owned Tropicana Hotel and Conference Center on the Las Vegas Strip.






Talk Therapy in Health Class May Help Teens Lose Weight


Health classes don't have to focus on just eating right and exercising more, according to a study reported in TIME.



Food Allergies' Costs Add Up


A USA Today article looks at a study that found that food allergies cost an average of $4,184 per child each year, with $931 coming straight out of parents' pockets.




Obese Teens Who Lose Weight May Develop Eating Disorders



In a recent Pediatrics article, Mayo Clinic researchers discuss their belief that obese teenagers who lose weight are at risk for developing eating disorders such as anorexia nervosa and bulimia nervosa. Eating disorders among these patients also aren't being adequately detected because providers and family members see the weight loss as positive, according to the research.

In the article, the researchers argue that formerly overweight adolescents tend to have more medical complications from eating disorders and that it takes longer to diagnose them than kids who are in a normal weight range. This is problematic because early intervention is the key to a good prognosis, says Leslie Sim, PhD, an eating disorders expert in the Mayo Clinic Children's Center and the lead study author.



A Secure, Anonymous Résumé Bank
Job Alerts Sent to Your E-mail

Although not widely known, individuals with a history of overweight or obesity represent a substantial portion of adolescents presenting for eating disorder treatment, Sim says.

Read More »