Diabetes Goal Tracker


Motivate your patients to jump-start their goals with an app from the American Association of Diabetes Educators. It lets people set, track, and achieve behavior-change goals and features educational materials, customizable reminders, and has the capability to share with other users. Learn more »



Co+op Kitchen


This iPad app is an interactive culinary resource that includes cooking videos, a local co-op search, and easy recipes as well as handy hints from chefs and food enthusiasts who love sharing their passion for great food. Learn more »



Have a dietetics-related question
that you'd like our expert, Toby Amidor,
MS, RD, CDN, to answer? E-mail
TDeditor@gvpub.com or send a tweet to
@tobyamidor, and we may feature your query!



From messenger bags and tote bags to apparel and journals, the Today's Dietitian gift shop has the perfect gift for long time professionals, recent grads, or even the RD to be. Check out our secure online shop today or call toll-free 877-809-1659 for easy and fast ordering.



Have a product or service you want to market to dietitians and nutrition professionals or an open position that you need to fill quickly? Today's Dietitian offers many flexible advertising programs designed to maximize your results. From print advertising to e-newsletter sponsorships, website advertising to direct mail opportunities, Today's Dietitian helps achieve your goals. E-mail our experienced account executives today for more information or call 800-278-4400!

AlliedHealthCareers.com is the premier online resource to recruit nutrition professionals. Post your open positions, view résumés and showcase your facility's offerings all at AlliedHealthCareers.com!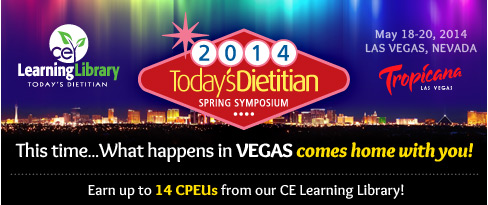 Featuring some of the profession's foremost experts leading our sessions as part of an attractive continuing education and networking program, all registered dietitians are cordially invited to participate in the Today's Dietitian Spring Symposium on May 18-20 at the Tropicana Hotel & Casino in Las Vegas.




CPE Monthly


Learn about food hazards in this month's issue of Today's Dietitian. Read the CPE Monthly article, take the 10-question online test at CE.TodaysDietitian.com, and earn two CPEUs!




Mediterranean Diet Linked to Healthier Old Age


New research indicates that following a Mediterranean-style diet throughout your life may pay off with a disease-free old age, as reported in TIME magazine.



Broccoli's Extreme Makeover


An article in The New York Times discusses what could happen if produce got the same marketing treatment as other products.




Diabetes and the Flu: What You Need to Know



There are certain groups of people who are at risk of serious flu complications each year, including those with diabetes.



A Secure, Anonymous Résumé Bank
Job Alerts Sent to Your E-mail

Seasonal flu activity can begin as early as October and continue to occur as late as May. Flu cases were reported at the University of Alabama at Birmingham (UAB) as early as September, and now is the time to prepare for the upcoming flu season, says Fernando Ovalle, MD, a professor of medicine in the UAB School of Medicine and senior scientist in the UAB Comprehensive Diabetes Center. "Diabetes can weaken your immune system against the flu, and it also puts you at an increased risk of flu-related complications," he says. "The weakening of the immune system makes it harder for your body to fight the flu virus. Being sick also can raise your blood glucose and prevent you from eating properly. You are also at risk of flu-related complications like pneumonia."

Ovalle says there are several steps people with diabetes can take to try to protect themselves from the flu virus:

Read More »