View this email in a browser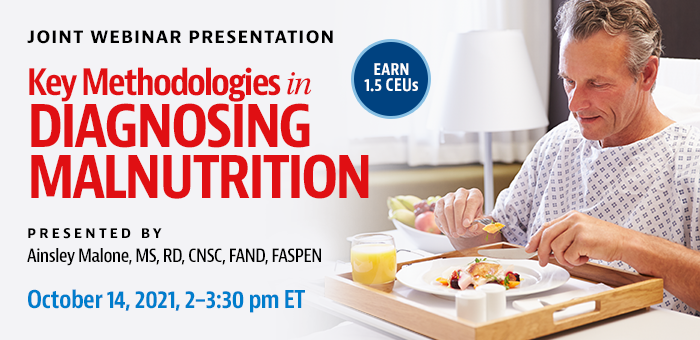 The impact of malnutrition on health outcomes is significant. It's therefore imperative, as critical members of the care team, for RDs to identify those who may be malnourished and begin nutrition intervention as soon as possible.

On Thursday, October 14, 2021, from 2–3:30 pm ET, this joint Today's Dietitian and Becky Dorner & Associates webinar, will discuss key malnutrition diagnostic approaches and how RDs can be at the ready to give their patients the care they need. Join Ainsley Malone, MS, RD, CNSC, FAND, FASPEN, as she discusses Subjective Global Assessment (SGA), the Academy of Nutrition and Dietetics/the American Society for Parenteral and Enteral Nutrition Malnutrition Consensus Characteristics, and the Global Leadership Initiative on Malnutrition (GLIM) Consensus Criteria. Learn how to delineate these approaches for diagnosing patients with malnutrition, understand their characteristics and similarities, and implement new ways you can use them in your specific practice setting.



Learning Objectives
| | |
| --- | --- |
| 1. | Implement nutrition assessment to identify patients with malnutrition in the hospital and post-acute care settings. |
| 2. | Describe the three key malnutrition diagnostic approaches and highlight their similarities and differences. |
| 3. | Employ best practices for treating malnutrition. |
| 4. | Detail outcome benefits of nutritional interventions in malnourished patients. |
Price: $29.99
1.5 CEUs
Suggested CDR Performance Indicators: 8.1.1, 8.2.4, 10.1.1, 10.2.1
CPE Level: 2
About Our Presenter


Ainsley Malone, MS, RD, CNSC, FAND, FASPEN, is currently a Clinical Practice Specialist with the American Society for Parenteral and Enteral Nutrition (ASPEN). Ms. Malone is also a Nutrition Support Dietitian at Mt. Carmel East Hospital in Columbus, Ohio where she is involved in the management of patients requiring enteral and parenteral nutrition. She's a leader in malnutrition-related activities, having served as author of the 2012 Academy of Nutrition and Dietetics/ASPEN Malnutrition Consensus Characteristics and as a member of the Global Leadership Initiative in Malnutrition (GLIM) working group, in addition to leading malnutrition advocacy efforts across the United States.

Ainsley served on the 2017–2018 State of Ohio Malnutrition Prevention Commission and currently is serving as a member of the Canadian Health Standards Organization Working Group, whose task is to develop a standard for addressing malnutrition in Canadian hospitals.
Disclosures


Ainsley Malone, MS, RD, CNSC, FAND, FASPEN, has no relevant disclosures to report and certifies that no conflict of interest exists for this program. View our disclosure policy.