Presented by





Complimentary Webinar: Building a Culture of Health for Our Nation's Children


1-Credit Continuing Education Webinar
Wednesday, June 25, 7 pm EDT

When it comes to the health of our youngest generation, we all have a critical role to play. Join our dynamic public health experts for a free 1 CE credit webinar on Wednesday, June 25. This webinar will also fulfill the many requests we've received for an evening presentation, with a start time of 7 pm EDT. Register now »



June CE Special


Clients coming to you about summer weight loss? Refresh your knowledge base with our weight loss, dietary patterns, and functional foods courses... all for 20% OFF! Learn more »



2014 Spring Symposium


With a deep exhale and much gratitude for the overwhelmingly positive feedback we've received thus far, it's our pleasure to thank everyone who participated in the Today's Dietitian Spring Symposium. The event is now a very special milestone in our 15-year history serving professionals in dietetics.

With such great feedback and so much learned during the planning of this event, we're very excited to make next year even better! Stay tuned for announcements on the site and dates of the 2015 Spring Symposium.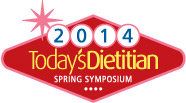 "It was the most practical conference I have ever attended in my career as a dietitian."



— Bonnie Johnson, RDN, Becker, MI


Rising Carbon Dioxide Levels May Affect Nutrition


A new study suggests that rising levels of carbon dioxide will negatively impact food staples such as wheat, maize, and soy, resulting in less nutritious crops, according to TIME.



Study Sheds Light on Fiber


The Chicago Tribune takes a look at scientists who are using a study of mice to shed light on fiber and how it plays a role in weight control.



Hometown Hero Builds a Healthier Community


An educator is finding ways to build a healthier community in her hometown, from collecting excess produce to running a community garden, as reported by CNN.

Experts Say Many Factors Contribute to Obesity



"When someone says of an obese person, 'They should just eat less and exercise more,' I say if it were that simple, obesity wouldn't be the worldwide epidemic that it is," says Claude Bouchard, PhD, a faculty fellow at the Texas A&M University Institute for Advanced Study (TIAS) and the director of the Human Genomics Lab at Pennington Biomedical Research Center in Baton Rouge, Louisiana. Bouchard studies the genetics of obesity and says there are dozens of factors involved in determining whether a person becomes overweight or obese.

"It's a complex problem because there are so many drivers," says Bouchard, who also is author or coauthor of several books and more than 1,000 scientific papers and a former president of the International Association for the Study of Obesity. "Approaches focus on only a few and forget that while we control them, there's compensation taking place elsewhere. There are other drivers that come into play."

He divides those drivers into four categories: social, environmental, behavioral, and biological. Social factors include less access to nutritious foods, more recreational eating, powerful and constant advertising, large food portions, poor school meals, eating on the run, food pricing, and fewer meals cooked at home.

Read more »

GoMeals App


With the GoMeals app, users can search thousands of foods and dishes from popular restaurants, grocery stores, and the items they may have in their kitchens to easily see the nutritional value (eg, calories, carbohydrates, fats, protein) of the foods they eat. In addition, users can sync the GoMeals data with their Fitbit account. Learn more »



GPS Exercise and Weight Tracker


With GPS tracking, this app allows users to track the pace of fitness activities such as running and cycling, measure workout distance, chart weight loss, and maintain training goals. Learn more »


The nation's top employers and recruiters of nutrition professionals advertise in Today's Dietitian magazine and post their job openings on AlliedHealthCareers.com. Check out the most recent opportunities that have been submitted by employers from across the country!

Clinical Diabetes Educators
Yukon-Kuskokwim Corporation, Alaska, US


Have a product or service you want to market to dietitians and nutrition professionals or an open position that you need to fill quickly? Today's Dietitian offers many flexible advertising programs designed to maximize your results. From print advertising to e-newsletter sponsorships, website advertising to direct mail opportunities, Today's Dietitian helps achieve your goals. E-mail our experienced account executives today for more information or call 800-278-4400!

Coming up in our July issue is our Summer Conference Showcase. E-mail a sales representative to be part of this unique advertising opportunity.

AlliedHealthCareers.com is the premier online resource to recruit nutrition professionals. Post your open positions, view résumés, and showcase your facility's offerings all at AlliedHealthCareers.com!



A Secure, Anonymous Résumé Bank
Job Alerts Sent to Your E-mail


Have a dietetics-related question that you'd like our expert, Toby Amidor, MS, RD, CDN, to answer? E-mail TDeditor@gvpub.com or send a tweet to @tobyamidor, and we may feature your query!