Webinar: Minority Health and the Dairy Connection
Free 1-Credit Continuing Education Webinar
Wednesday, April 30, 2-3 pm EDT


Presented by



Sponsored by



Presented by esteemed author and minority health expert Constance Brown-Riggs, MSEd, RD, CDE, CDN, our exclusive free webinar, "Minority Health and the Dairy Connection," will educate nutrition professionals on nutrient intake trends and chronic diseases and conditions among African Americans and Hispanic Americans, and provide the most current evidence of the health benefits of dairy foods.

Register now »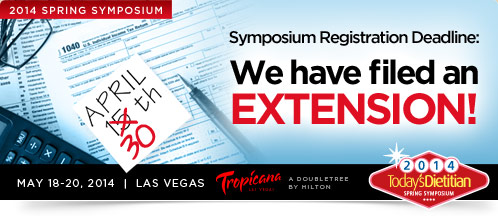 With just a few seats left to fill and numerous requests for more time, we are extending the registration deadline for the Today's Dietitian Spring Symposium to Wednesday, April 30.





New Guidelines Say Kids Should Get Cholesterol Tests


The American Academy of Pediatrics recently revised guidelines for annual well-child visits, adding a recommendation that children aged 9 to 11 get a lipid screen, as reported in the Chicago Tribune.



Raw Milk Doesn't Help Lactose Intolerance


According to TIME, a new study reports that lactose-intolerant people have the same symptoms from raw and pasteurized milk.

New School Standards Increase Fruit, Vegetable Consumption



New federal standards launched in 2012 that require schools to offer more healthful meals have led to increased fruit and vegetable consumption, according to a new study from Harvard School of Public Health (HSPH) researchers. The study, the first to examine school food consumption both before and after the standards went into effect, contradicts criticisms that the new standards have increased food waste.

"There's a push from some organizations and lawmakers to weaken the new standards. We hope the findings, which show that students are consuming more fruits and vegetables, will discourage those efforts," says lead author Juliana Cohen, ScD, research fellow in the department of nutrition at HSPH.

Read more »


Have a dietetics-related question that you'd like our expert, Toby Amidor, MS, RD, CDN, to answer? E-mail TDeditor@gvpub.com or send a tweet to @tobyamidor, and we may feature your query!

10K Runner


This app gets you going with a walk-run-walk routine. You start slow, and the running gradually increases to a full 10K. Just plug in your headphones and play your favorite music, and the app will tell you when to walk and when to run. Learn more »



LIVESTRONG Calorie Tracker


This tracks your daily calorie, fat, carbohydrate, and protein intake. You will have access to MyPlate at LIVESTRONG.COM, which offers a comprehensive nutrition database of more than 1.3 million food and restaurant items. Learn more »


Have a product or service you want to market to dietitians and nutrition professionals or an open position that you need to fill quickly? Today's Dietitian offers many flexible advertising programs designed to maximize your results. From print advertising to e-newsletter sponsorships, website advertising to direct mail opportunities, Today's Dietitian helps achieve your goals. E-mail our experienced account executives today for more information or call 800-278-4400!

Coming up in our May issue in conjunction with National Celiac Disease Awareness Month, is our annual Gluten-Free Resource Guide. To be part of this unique advertising opportunity, simply fill out this form and either e-mail or fax it back to reserve your space. 

AlliedHealthCareers.com is the premier online resource to recruit nutrition professionals. Post your open positions, view résumés, and showcase your facility's offerings all at AlliedHealthCareers.com!



A Secure, Anonymous Résumé Bank
Job Alerts Sent to Your E-mail