In the April issue

Working with Olympic athletes

Functional foods that lower CVD risk

Tips and strategies to help clients get more fiber

The role RDs can play in preventing blindness in diabetes patients





Have a dietetics-related question that you would like an expert to answer? E-mail TDeditor@gvpub.com and we may feature your query!




Raw Milk Causes Most Dairy-Related Disease Outbreaks


Unpasteurized or raw milk is often seen as more healthful, but it's 150 times more likely to cause a disease outbreak than pasteurized milk, according to an article in the Los Angeles Times.

Panera, Others Plan
Pay-What-You-Can Cafés
USA Today reports on a new trend in restaurants that aim to make a social difference.




New App Helps Urology Patients Find Bladder-Friendly Foods


The new Food List app by the Interstitial Cystitis Network gives patients an easy-to-use database and a comprehensive food list they can use while grocery shopping and eating out at restaurants.
Learn more »

Innovative App Enables Clients
to Track Food and Fitness Goals
The free Calorie Counter & Diet Tracker app by MyFitnessPal.com is being touted as the fastest and easiest to use calorie counter with the largest food database to date. Learn more »



Learn about antioxidant-rich herbs and spices in this month's issue of Today's Dietitian. Read the CPE Monthly article, take the 10-question online test at ce.TodaysDietitian.com, and earn two CPEUs!



It's National Nutrition Month, so wear your professional pride proudly with products designed specifically for nutrition pros. From messenger bags and tote bags to apparel and journals, the Today's Dietitian gift shop has the gear to commemorate this special month. Check out our secure online shop today or call toll-free 877-809-1659 for easy and fast ordering.


Today's Dietitian is mobile for iPhone, iPad, and Android users! Visit www.TodaysDietitian.com/digital on your phone's browser to view the mobile version of this issue and bookmark us for future issues.



You will need Adobe Flash Player to view your digital issue. Go here for a free download.



Getting Your 'Breakfast' Plate In Shape



Everyone knows that breakfast is the most important meal of the day. It jump-starts your metabolism, renews your energy, and fills your body with much-needed vitamins and minerals to last you 'til lunchtime.

In this month's E-News Exclusive, Today's Dietitian spoke with RDs who discuss the importance of breakfast and how to turn popular calorie-laden morning fare that Americans love to eat into lower-calorie, nutritious options. Plus, we tell you about some of the new, healthful breakfast products now sold in grocery stores.

If you'd like to read more about this all-important morning meal, check out the feature article "Best Breakfasts From Around the World" in the March issue of Today's Dietitian. We interviewed RDs who discuss a variety of breakfast meals from Turkey, Costa Rica, and other parts of the world that are nutritious as well as delicious. If you're not a subscriber of the magazine, you can read the digital version here.

Be sure to visit Today's Dietitian's website at www.TodaysDietitian.com. You'll find great news and information that's relevant and reliable to daily practice. We welcome your feedback at TDeditor@gvpub.com. Enjoy the e-newsletter and follow Today's Dietitian on Facebook and Twitter!

— Judith Riddle, editor




Healthful Breakfast Makeovers


By Juliann Schaeffer

Dietitians share ideas on how to transform high-fat, high-calorie breakfasts into more healthful fare.

The many benefits of eating a regular breakfast is likely old news to dietitians, but the meal's significance for clients' overall wellness is worth restating. "It's been shown that eating breakfast is a key habit of a healthful lifestyle," says Connie Guttersen, RD, PhD, author of The Sonoma Diet and Kraft Foods' spokesperson. "Breakfast not only gives you a jump-start on getting the energy you need to start the day but, depending on your food choices, it also can provide key nutrients for health, such as calcium from dairy, B vitamins, iron, and fiber. Studies also show that those who eat breakfast have a better overall diet quality."

Yet, despite these and other advantages, a regular breakfast routine is hardly commonplace for many families in the United States today. Guttersen notes that more than 50% of Americans report skipping breakfast regularly.

Full Story »



Welch's Announces Winners of Its Reward Your Heart,
Reward RDs Contest

Welch's has announced the five RD winners of its Reward Your Heart, Reward RDs contest and the people who nominated them as leaders in heart-health education. Each winner has received a $500 cash prize, and each person who submitted the winning nominations has received $500 to put toward their nutrition education efforts. Find out who the winners are and read about their stories here.

Read More »



Enter the Today's Dietitian/Bush's Best® Beans Healthy Meals Facebook Challenge for a chance to win!

In honor of National Nutrition Month, we want to reward you for all the hard work you put into meal planning for your clients! Take part in the Today's Dietitian/Bush's Best® Beans Healthy Meals Facebook Challenge and you could win a FREE subscription/renewal to Today's Dietitian PLUS be featured in our May 2012 Issue! Challenge ends Friday, March 30!

If you do not have a Facebook account or encounter technical difficulties, click here for the official entry form.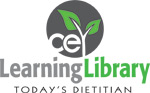 To earn credits, just search the CE Learning Library to access and read articles or books written by RDs and other experts in the field, then take the associated exam to earn CEUs for each course. This new resource enables professionals to manage your transcripts of credits and certificates, interact and discuss the courses with other dietitians, and chart out a path to recertification - all in one place.

What you'll see in the Library initially is a mere taste of what's coming in the next few weeks and months. We'll be updating our online course offerings quickly and often. As always, we have an article and exam in each issue of the magazine for credit, so look for the CPE Monthly feature in each issue. Plus, you'll have access to more than just the articles in our magazine, as the CE Learning Library is always open, always available to provide RDs with opportunities to earn credits.

So log on at ce.todaysdietitian.com today to open an account and get started with your first course. Be sure to change your TCPE bookmark to our new CE Learning Library.



Since March is National Nutrition Month, Today's Dietitian magazine would like to acknowledge the important work RDs do by extending a special subscription offer good for the entire month!

By taking advantage of this offer you will receive THREE YEARS of Today's Dietitian for only $24.99.

To get your special National Nutrition Month subscription, click here.




Adventist — www.adventisthealthcv.com
Atascadero — www.dmh.ca.gov/jobs
Cheyenne — www.crmcwy.org
Cumberland — www.cumberlandhospital.com
Intermountain — www.intermountainhealthcare.org
Lake Regional — www.lakeregional.com
Pomona Valley — www.pvhmc.org
Portage — www.portagehealth.org
RD Network — www.rdnetwork.com
Valley Health — www.valleyhealth.jobs
Yakima Valley — www.yvfwc.org



Have a product or service you want to market to dietitians and nutrition professionals or an open position that you need to fill quickly? Today's Dietitian offers many flexible advertising programs designed to maximize your results. From print advertising to e-newsletter sponsorships, website advertising to direct mail opportunities, Today's Dietitian helps achieve your goals. E-mail our experienced account executives today for more information or call 800-278-4400!

AlliedHealthCareers.com is the premier online resource to recruit nutrition professionals. Post your open positions, view resumes and showcase your facility's offerings all at AlliedHealthCareers.com!