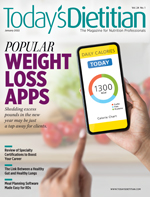 January 2022 Issue
Meal Planning Software
By Laura Ali, MS, RDN, LDN
Today's Dietitian
Vol. 24, No. 1, P. 34
Learn about the latest time-saving, revenue-generating teaching tools for RDs.
When it comes to meal planning, most dietitians cringe when a client says, "Just give me a meal plan, and I'll be fine." As food and nutrition educators, dietitians know the importance of teaching clients the skills they need to manage their health. Most RDs consider meal planning one of those essential skills. This article reviews the importance of meal planning as well as challenges associated with it, and provides an overview of some of the online tools available for RDs to assist clients with meal planning.
Why Is Meal Planning Important?
Clients easily can become overwhelmed when facing a new diagnosis of a serious health condition. Suddenly they're faced with learning about their illness and juggling a new routine. They may have to take a variety of medications, begin an exercise program, and adopt a new way of eating. While physicians are becoming much more in tune with the role nutrition plays in disease management, many doctor's offices still hand out preprinted meal plans as part of the treatment package but with no patient education.
While a static meal plan may give someone an idea of where to start, it rarely works long term and often just leads to frustration and nonadherence. They're rarely customized and don't teach patients the skills they need to successfully plan their meals.
Research has shown that meal planning not only facilitates weight loss but also improves overall diet quality. A large study involving the general population in France found that meal planning resulted in both weight loss and better adherence to French dietary guidelines. Participants who planned their meals also reported an increased consumption of a variety of foods.1 In addition, a recent study by Jacqueline Hayes, PhD, and her team at the Weight Control and Diabetes Research Center at The Miriam Hospital in Providence, Rhode Island, found that individuals who planned meals more frequently throughout their program experienced greater weight loss. And those who were taught meal planning skills early in the program planned more often and lost more weight.2
Whether clients want to lose weight, manage a serious health condition, or eat more healthfully, learning how to plan meals is a beneficial life skill.
Challenges and Available Solutions for Meal Planning
For RDs working with a variety of clients, developing individualized meal plans is a time-consuming part of their practice. Selecting recipes, helping clients create shopping lists, and teaching them basic culinary skills adds to the process, cutting into RDs' time and ultimately their bottom line.
Understanding the needs of dietitians, several companies have developed digital software programs that either have standard meal plans for purchase or individualized planning options RDs and clients can use to create menus and download recipes, shopping lists, and nutrition education materials. Many programs offer interactive apps to help clients with goal setting, food logging, digital shopping lists, and messaging. These programs save RDs time and increase patient compliance. The software companies report that professionals who use their programs save anywhere from 70% to 90% of the time it would take to create a meal plan.
Research supports the benefits of using a digital meal planning system. An observational study in the Journal of Medical Internet Research followed approximately 9,000 people with obesity using a digital food planning program. The program provided personalized nutrition recommendations, recipe and meal suggestions, the ability to order groceries online, and meal kits. The study found that when used for at least 24 months, one-third achieved at least a 5% weight loss.3
Many RDs who use these programs say that no matter which one they chose, they not only save time but also add a greater level of professionalism to their service. While many of the programs include the same features, the format, services available, and options vary (see table belo). What follows is a summary of some of the meal planning software programs on the market, their general features, and costs.
Living Plate Rx
Living Plate Rx is a meal planning and nutrition education company developed by Jeanne Petrucci, MS, RDN. It focuses on combining meal planning with culinary and nutrition education to support long-term behavior change.
The company offers RDs two membership options for its meal planning programs. The free version, Living Plate Rx, gives professionals access to the basic meal planning platform. Clients then pay a monthly subscription fee for access and the health care professional receives a 30% commission. The free version is a good way for RDs to begin using the system if they have only a few clients or don't focus on one-on-one nutrition counseling. While using the free version also is a good way to try the program, RDs miss out on the more dynamic features.
Living Plate Rx Prime is the paid membership that costs $499 per year or $49 per month. The Prime membership gives dietitians more functionality, the ability to add an unlimited number of clients, and in addition to having access to the preset meal plans, they can develop their own or "signature" meal plans they can store and use again. Prime membership also enables RDs to include a branded landing page for their websites and provides access to a full library of nutrition education resources. Some unique features of this program are the customizable blog posts, e-books, courses with lesson plans and slide decks, handouts, social media calendars, and cooking videos RDs can use on their platforms. The company currently is developing an interactive app.
The free version of Living Plate Rx offers 21 base meal plans. It also partners with a variety of companies to offer recipes and includes 11 additional partner-generated meal plans from those companies. Chefs and dietitians develop all of the recipes in the Living Plate system, which are tied to specific meal plans. All recipes come with complete nutrition analyses that use the USDA database. In addition, RDs can adjust the recipes for portion size, and because the program works in real time, nutrition analyses automatically adjust to the changes.
Once an RD completes a meal plan, they send the client a link to the plan that includes recipes and a shopping list. Dietitians can add notes and make suggestions within the plan. What's more, RDs and clients can swap meals with a drag and drop feature. Dietitians also can set up a "favorites" list of recipes for themselves and clients to facilitate the search function.
Lisa Mitchell, RDN, LD, from Style Your Diet, a nutrition and health coaching business in Danbury, Texas, says, "You get so many networking opportunities, and you get information on various resources for dietitians that I wouldn't necessarily know about without being a member of Living Plate Rx Prime."
The masterclass video tutorials help maximize RDs' free or paid memberships, enabling them to use all the features and join in on the weekly programs and sessions offered in the Facebook group. All members, including RDs who have a free membership, can join the affiliate program, which provides a monetary reward for referring others to the program.
EatLove PRO
EatLove PRO is a San Francisco–based digital technology group that offers an online meal planning system specifically designed for dietitians. The system enables RDs to provide personalized meal plans for clients based on their individual nutritional needs, preferences, cooking skills, and the number of meals per day. RDs can track clients' progress and communicate directly with them in between appointments through the system. The group has two RDs on staff; more than 6,000 recipes sourced from cookbook authors, chefs, and dietitians; and an inhouse recipe development team.
A limited free trial of EatLove PRO is available. However, to access all the features, the cost is $54 per month for the starter package, which is billed annually. Plans also are available for group practices.
Some standout features include the ability to add restaurant meals as part of meal planning. Restaurants that offer more healthful choices have menu items included. EatLove PRO also works with a couple of grocery delivery services, including Instacart, so clients can upload grocery lists and arrange to have their groceries delivered. Mary-Catherine LaBossiere, MPH, RD, LDN, owner of Defy Nutrition in Clarksville, Tennessee, says, that along with the user-friendliness of the program, the ability to synchronize with grocery delivery services is a bonus for busy clients. This is a unique service, and research has shown that delivery of healthful foods may be a good strategy for improving health outcomes.3
To generate meal plans, RDs enter nutrition data and their clients' health and personal information. In addition, RDs can adjust the meal plans based on cooking skills and desired meal prep time. EatLove PRO also has a secure HIPAA-compliant messaging platform that enables dietitians to engage with clients in between appointments and monitor their progress on the plan.
Clients can download a free app on their smartphones to gain access to their personal meal plans, grocery lists, and a food logging feature on the go. The app contains a barcode scanner, making it easy for clients to add foods to their log.
Ashley Larsen, RDN, owner of Ashley Larsen Nutrition Consulting, in Fresno, California, uses the EatLove program and says she enjoys the flexibility it provides and the interaction she has with clients in between counseling sessions.
"The program also provides me a deeper look into my client's nutrition habits with access to their food, exercise, and weight logs. When we come together for our sessions, I like to provide encouragement and constructive feedback on what I'm seeing in their logs to help them develop future goals."
That Clean Life
Abigail Keeso Hopkins, RN, an Ontario, Canada–based nurse, and her husband, started the meal planning software system That Clean Life in 2014. Her goal was to make healthful eating simple. They began publishing e-books of meal plans, which evolved into the meal planning system it is today. Membership costs for the program is $60 per month or $600 per year. The annual membership fee gives RDs access to a three-week "Business Accelerator Course" that reviews how to best use the program to grow their businesses and includes many ideas to create services and passive income streams, such as creating brandable content they can sell on their personal platforms for additional income.
The meal planning database offers more than 70 different customizable meal plans that are diet and health condition specific. Some of the diets include low-FODMAP, diabetes, allergen-free, and a variety of plant-based and popular weight loss plans, such as the ketogenic diet. All meal plans include daily nutrition totals and nutrient breakdowns, such as macro percentages and key nutrient totals (eg, sodium, fiber).
The program isn't interactive like many of the others. Its purpose is to enable RDs and other health care providers to create branded, customized meal plans along with recipe books, meal prep guides, and shopping lists to e-mail to clients. The company currently is working on a more interactive version to be released soon.
The database includes more than 2,000 recipes that in-house recipe developers and RDs created. Currently, the staff is focusing on adding more culturally diverse recipes to the database, enabling RDs to adjust recipes by adding and deleting ingredients and save them as new recipes to their personal recipe box for future use. Dietitians also can add their own recipes to their personal recipe box. Mandy Enright, MS, RDN, RYT, the FOOD + MOVEMENT Dietitian and author of 30-Minute Weight Loss Cookbook: 100+ Quick and Easy Recipes for Sustainable Weight Loss, says she likes "the flexibility around creating daily meal plans, the ability to edit preexisting recipes, create a grocery list, and add my own recipes. I [can] easily import my own recipes from my blog into That Clean Life to add to meal plans, which [is] a huge timesaver and win. Plus, I love how easy That Clean Life makes it to create professional-looking meal plans, recipe books, and handouts."
Moreover, there are other ways to use this program beyond developing personalized meal plans. RDs can customize and brand meal plans, recipe books, and all the handouts they create. And with the abundant recipe database, it's easy to assemble recipe books and create handouts for your practice, group classes, seminars, and health fairs.
Other perks: RDs can apply to become a "partner" through its affiliate program and receive a 30% commission on meal planning program sales to other RDs. They also can attend webinars and CE events, and, as mentioned, sign up for the business accelerator course with annual membership.
Meal Garden
Meal Garden is a meal planning program designed for health care practitioners and consumers so they, too, can develop meal plans and use them when needed. The cost of the program is $30 per month. RDs can work with an unlimited number of clients and aren't locked into an annual contract.
The database includes more than 7,000 recipes and 600 premade, customizable meal plans. The recipes include those developed by the company and those submitted by the community of users. Similar to other programs, RDs can search recipes by type of meal, cooking time, ingredients to include or exclude, and specific nutrients.
The program has a drag and drop function to add and delete menu items to and from meal plans and automatically generates shopping lists. RDs can add prep instructions to the meal plans and include or hide nutrient analyses and diet goals for clients.
Clients also have a fair amount of control over their meal plans. Once signed in to the system, clients can access their meal plans, recommendations, notes, and recipe collections. They can alter the recipes and make ingredient or menu item swaps dietitians can see on their end. RDs can embed video tutorials into the meal plan as well as articles and other materials that can enhance the plan or help explain their health condition.
A unique feature of the Meal Garden program is its "health rating" system. Using a red, yellow, or green leaf, recipes are rated according to their healthfulness. It uses a proprietary system that evaluates a food or ingredient based on how it may contribute to chronic illnesses such as heart disease and diabetes. The more fruits, vegetables, whole grains, and healthful fats a recipe contains, the "greener" the recipe. However, dietitians can modify meals and recipes to adjust the rating.
Moreover, RDs can personalize and brand meal plans and recipes by adding the logos, fonts, and colors associated with their nutrition business. They can share meal plans over social media or in their e-newsletters to promote their services and build their audience and client base.
Other features include access to a blog, a weekly e-newsletter with tips on how to use the program to enhance their business, and a recently launched affiliate program that enables dietitians to earn additional income through referrals.
Considerations When Choosing a System
As with any business investment, there are several things to consider when evaluating meal planning programs. RDs should think about how they'll use the program and how often. They should find out whether there are other features available beyond one-on-one meal planning, what their clients need, how much interaction the program offers, and most importantly, how accessible customer support is. It's a good idea to speak with other RDs about their experiences using these programs to get a feel for what may be best for their business.
In addition to customer support, LaBossiere says cost is a huge factor to consider. And dietitians should review the terms and conditions of each program before signing up so they fully understand what program information they can share publicly and how long they retain the rights to share that information. For example, a paid membership with Living Plate Rx Prime will enable dietitians to share its blog posts, social media posts, handouts, and programs with their audience. If dietitians end their membership, however, they're expected to remove all Living Plate Rx material from their websites and social media accounts. Other programs may have additional rules and requirements regarding their information, so it's important to read the fine print.
Jen Hernandez, RDN, CSR, LDN, founder of Plant-Powered Kidneys, a renal nutrition services company, suggests giving the program a test run before signing up and discussing it with clients. "If it's not something you're familiar with, it will be incredibly hard to discuss it or even encourage it for your clients."
Bottom Line
Meal planning software programs can save much time and energy, as dietitians can spend less time developing individual meal plans, see more clients, and offer professional, branded content. Many of the systems are interactive and encourage client engagement and education. All the programs provide more static, predesigned meal plans for clients who want something simple to follow and start them on their healthful diet and nutrition journeys. Most systems offer opportunities to generate additional revenue and passive income and use tools to attract more clients and e-mail signups. Many features these programs offer are similar, though some are unique, possibly making one plan better for some dietitians over others. Like many digital platforms, meal planning software programs are continually being revised and updated. RDs should use this article as a guide to choose among the many programs available and investigate the options that may work best for their practice.
— Laura Ali, MS, RDN, LDN, is a culinary nutritionist and food and nutrition communications consultant. She works with consumers and health-focused companies to develop simple, delicious ways to incorporate healthful foods into everyday meals. Follow her on Instagram and Twitter @LauraAli_RD and her blog at lauramali.com.

References
1. Ducrot P, Méjean C, Aroumougame V, et al. Meal planning is associated with food variety, diet quality and body weight status in a large sample of French adults. Int J Behav Nutr Phys Act. 2017;14(1):12.
2. Hayes JF, Balantekin KN, Fitzsimmons-Craft EE, et al. Greater average meal planning frequency predicts greater weight loss outcomes in a worksite-based behavioral weight loss program. Ann Behav Med. 2021;55(1):14-23.
3. Hu EA, Nguyen V, Langheier J, Shurney D. Weight reduction through a digital nutrition and food purchasing platform among users with obesity: longitudinal study. J Med Internet Res. 2020;22(9):e19634.