In the March issue

Foods for healthy aging

Healthful breakfasts from around the world

FODMAPs update

African Heritage Diet Pyramid



Have a dietetics-related question that you would like an expert to answer? E-mail TDeditor@gvpub.com and we may feature your query!


App Searches for Safe Sport
Supplements, Nutrition Products
A free mobile app developed by NSF International for the iPhone, iPad, and Android markets allows clients to find safe and effective dietary supplements and sports nutrition products.
Learn more »

App Offers Ingredient
Substitutions, Recipes
for Clients With Allergies
Now compatible with iOS 3 or higher, the Cook IT Allergy Free app was named by Bon Appétit as one of eight best healthy cooking apps/best apps for food allergies. Learn more »



Learning to Be Lean


Health insurers and employers must now pay the cost of screening children for obesity and providing them with appropriate counseling, according to The New York Times.



An Appetizing Look at 2012


USA Today takes a look at 12 trends to expect in 2012.



Wednesday, March 14 is Registered Dietitians' Day, so commemorate the occasion by ordering something cool for yourself or for your professional colleagues today! Show your professional pride on RD Day and beyond with quality nutrition-themed items like shirts, coffee mugs, tote bags, mouse pads and more. It's easy and affordable on the Today's Dietitian online Gift Shop. Check out our secure online shop today or call toll-free 877-809-1659 for easy and fast ordering.


Today's Dietitian is mobile for iPhone, iPad, and Android users! Visit www.TodaysDietitian.com/digital on your phone's browser to view the mobile version of this issue and bookmark us for future issues.



You will need Adobe Flash Player to view your digital issue. Go here for a free download.



Hey Y'all



Last month when Southern chef Paula Deen, 64, star of the Food Network's Paula's Best Dishes, announced she had type 2 diabetes, the news created a media firestorm!

Many people responded with indifference. Others were empathetic, and some were downright angry. After all, she waited about three years before telling the public while continuing to cook fattening meals and decadent desserts loaded with butter and sugar—foods that contribute to obesity and type 2 diabetes.

Now she's partnered with pharmaceutical company Novo Nordisk, maker of the diabetes medication Victoza that Deen is taking for blood sugar control. Deen and her two sons, Jamie and Bobby, have teamed up with the company to launch Diabetes in a New Light, a program that will help people better manage their diabetes and provide diabetes-friendly versions of her favorite recipes.

Unlike Deen's angry naysayers, I'm still a fan of hers. In a USA Today interview, Deen said when she first learned of her diagnosis she wasn't ready to tell the world because she didn't know much about the disease. Now that she does she felt it was the right time to come forward. Deen also said the meals she cooks for television viewers aren't what she regularly eats.

This may be hard to believe, but it may be true. What do you think? To get your feedback on Deen's announcement, Today's Dietitian created a poll at www.TodaysDietitian.com/WhatDoYouThink. We'd like to hear from you.

In this month's E-News Exclusive, Today's Dietitian spoke with Janet Bond Brill, PhD, RD, LDN, author of the book Prevent a Second Heart Attack: 8 Foods, 8 Weeks to Reverse Heart Disease, to share the foods you should be telling clients about that will help them live longer and healthier lives. Enjoy the newsletter and follow us on Facebook and Twitter!

— Judith Riddle, editor




Preventing a Second Heart Attack


By Lindsey Getz

RD and author Janet Bond Brill discusses five foods you can tell clients about that can help prevent a second heart attack—and perhaps even reverse heart disease.

Patients who survive a first heart attack often feel that they've been given a second chance to improve their diet and lifestyle—and they certainly have. In fact, clients who make crucial dietary changes can even prevent a second heart attack.

This is a topic with which Janet Bond Brill, PhD, RD, LDN, has personal experience. Her father had his first heart attack at the age of 45. Twenty years later, he didn't survive his second. So when Brill's husband had a heart attack in July 2009, she was adamant about ensuring it would never happen again. So she researched and wrote her latest book, Prevent a Second Heart Attack: 8 Foods, 8 Weeks to Reverse Heart Disease. In it she explores eight foods that have the power to help prevent a second heart attack. Today's Dietitian recently caught up with Brill to discuss five of those foods dietitians can share with patients to improve their long-term health.

Full Story »




School Obesity Programs May Promote
Worrisome Behaviors in Kids

A new report from the C. S. Mott Children's Hospital National Poll on Children's Health examines the possible association between school-based childhood obesity prevention programs and an increase in eating disorders among young children and adolescents.

The poll asked parents about obesity prevention programs in their children's schools and about food-related behaviors and activity that may be worrisome.

Read More »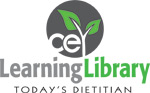 A new resource for continuing education and professional growth for RDs…

Over the years, Today's Dietitian magazine has become a trusted source for continuing education credits by publishing our monthly CPE article and exam. We know how important quality continuing education is to the professional growth of RDs, so we've chosen to expand our program exponentially with the launch of the Today's Dietitian CE Learning Library.

Scheduled to go live in March, our new CE Learning Library is accredited by the CDR as a CPE provider, offering a wide range of courses for RDs in need of credits for recertification and general professional development. Our articles on a variety of topics are authored by distinguished industry experts, and our online system will make it easy to register and earn credits like you always have with us by simply reading an article and taking the exam when you're finished.

Stay tuned for our announcement in March that the library is open and ready to serve your continuing education needs.

TELL US WHAT YOU THINK: take a minute to take our CE Survey here.



Have a product or service you want to market to dietitians and nutrition professionals or an open position that you need to fill quickly? Today's Dietitian offers many flexible advertising programs designed to maximize your results. From print advertising to e-newsletter sponsorships, website advertising to direct mail opportunities, Today's Dietitian helps achieve your goals. E-mail our experienced account executives today for more information or call 800-278-4400!

AlliedHealthCareers.com is the premier online resource to recruit nutrition professionals. Post your open positions, view resumes and showcase your facility's offerings all at AlliedHealthCareers.com!